Researching Sources of the Social Pedagogics Development Problem as a Science in Ukraine
Lyudmyla Shtefan

G.Skovoroda Kharkiv National Pedagogical University
Keywords:
sources, article, dissertation, archive, museum, journal, library
Abstract
The article gives analysis of the dissertations, text-books, the national and foreign researchers' works dedicated to the problems of the development of the social pedagogic as science in Ukraine. Besides, there are analyzed the documents and the materials of the Central State History Archive in Kyiv, the Central State Archive of the Ukrainian Authorities and Management, the State Archive in Kharkiv Region, the Department of Manuscripts at the V.I.Vernadsky Scientific Library of the National Academy of Science in Ukraine, the Russian State Library, the issues of the rare books and Ukrainian studies departments at the V.Vernadsky Central Scientific Library of the Academy of Science of Ukraine, Scientific and Reference Literature Library of the Central State History Archive in Kyiv, the V.Korolenko state scientific library in Kharkiv, the V.N.Karazin Kharkiv National University the museums of the V.H.Korolenka and A.Makarenka Kharkiv regional secondary boarding school for the blind schoolchildren in Kuriazh.
Downloads
Download data is not yet available.
References
Василькова Ю. В. Социальная педагогика : учеб. пособие / Ю. В. Василькова, Т. А. Василькова. – М., 1999. – 440 с.
Коваль Л. Г. Соціальна педагогіка / Соціальна робота : навч. посіб. / Л. Г. Коваль, І. Д. Звєрєва. – К. : ІЗМН, 1997. – 392 с.
Мудрик А. В. Социальная педагогика : учеб. пособие для студентов пед. вузов / А. В. Мудрик. – М. : Академия, 2000. – 192 с.
Ромм Т. А. Становление и развитие социальной педагогики в России в начале ХХ века : дисс… канд. пед. наук : 13.00.01 / Т. А. Ромм. – М., 1995.
Соціальна педагогіка. Основи соціальної педагогіки. Конспект лекцій / укл. А. О. Малько. – Х. : ХДІК, 1998. – Ч.1. – 60 с.
Соціальна педагогіка : навч. посіб. / А. Й. Капська, Л. І. Міщик, З. Г. Зайцева. – К., 2000. – 264 с.
Технології соціально-педагогічної роботи : навч. посіб. – К., 2000. – 372 с.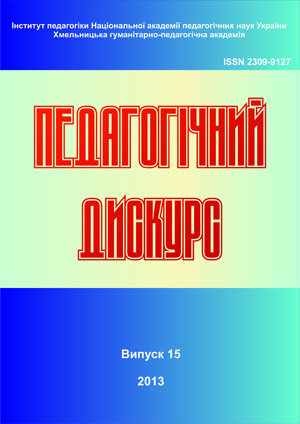 How to Cite
Shtefan, L. (2013). Researching Sources of the Social Pedagogics Development Problem as a Science in Ukraine. Pedagogical Discourse, (15), 771-777. Retrieved from http://ojs.kgpa.km.ua/index.php/peddiscourse/article/view/958
Copyright (c) 2013 Pedagogical Discourse
This work is licensed under a Creative Commons Attribution-NonCommercial-ShareAlike 4.0 International License.