Preparation of the Future Specialists to Work with Different Categories of Children under the Conditions of Special Abilitation Space
Abstract
The article deals with the actual problem of preparation of the future specialists to work with different categories of children under the conditions of special abilitation space. It is mentioned that the families with children having violations of psychophysical development take special place in the society. The terms «abilitation», «abilitation activity» have been characterized. It is found out that abilitation is a system of activities aimed at the acquisition of knowledge and skills needed for independent living in social environment: awareness of their opportunities and limitations, social roles, understanding of rights and duties, ability to perform self-service.
The attention is focused on the fact that the main purpose of abilitation activity of the pedagogue is: to provide children with pedagogical, speech therapy and social assistance, ensuring maximally full and early social adaptation, timely development, training and education in accordance with the needs of the individual child. The curricula of the training direction «Correctional Education», specialization «Speech therapy. Special psychology» (bachelor, qualification of specialist – speech pathologist, teacher of children with impaired mental and physical development) have been analyzed. The theoretical model of the program of training specialists for abilitation activity that needs to be addressed on philosophical, general scientific and specifically-scientific levels has been offered. It is indicated that the philosophical basis of the development of the program of training future specialists abilitation activity are the provision of anthropological, phenomenological, existential, and synergistic and dialogic approaches. The above mentioned basis allows recognizing that every child and parents have the right for individuality and differences. At the general scientific level the methodology of the research is the system approach which allows considering the development of the program as the system of interrelated components. Specifically-scientific level of the theoretical-methodological foundations of understanding the development of the program is represented by a set of scientific approaches to realization of pedagogical conditions providing the possibility of developing qualitative program. It is concluded that the implementation of the programmes of preparation of the future specialists for abilitation activity should also be family-centered in its nature. The participation of parents in the process of abilitation determines its efficiency, because it allows realizing the continuity in the activity of specialists of various types, who work in educational institutions and work of parents in families.
Key words: abilitation, abilitation activity, children with violations of psychophysical development, speech pathologist, therapeutic-pedagogical activities preparation of specialists.
Downloads
Download data is not yet available.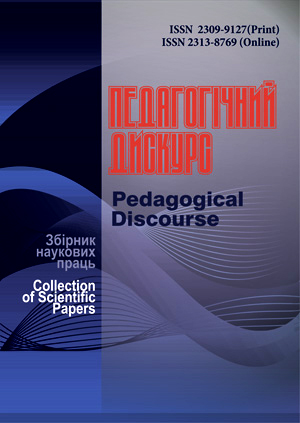 How to Cite
Krutii, K., & Zdanevych, L. (2017). Preparation of the Future Specialists to Work with Different Categories of Children under the Conditions of Special Abilitation Space. Pedagogical Discourse, (22), 76-80. Retrieved from http://ojs.kgpa.km.ua/index.php/peddiscourse/article/view/21