Stefan Balei's Psychological-Pedagogical Inheritance in the Foreign and Native Scientific Discourse
Nataliia Fanenshtel

Khmelnytskyi Humanitarian-Pedagogical Academy
Keywords:
Stepan Balei, baleiscience, еducational psychology, genetic pedagogics
Abstract
Historiografic analysis of Stefan Balei's creative inheritance has been done in the article. On the basis of analytical-synthetic approach the author systematized scientific researches, and as a result the branches of sciences were determined, in which the research was made. It is found out that the foreign scientists, specifically from Poland, research mostly Balei's separate achievements in general psychology, еducational psychology, psychology of creation, philosophy and pedagogiсs. The first attempt to study and reconstruct scientist's inheritance systematically has been realized by Ukrainian philosopher M.Vernikov and continued by his followers. The analysis of scientific literature has shown that Balei's scientific approach is insufficiently represented in the native pedagogical science. This demands further thorough study of his scientific works.
Downloads
Download data is not yet available.
References
Balei Stefan, Pedagogicheskaya enciklopediya: v 4 t. / [gl. red. I. A. Kairov], Moscow,Sovet. Encikl., 1964, Part 1, p. 163.

Vasyanovych G. P. Gumanizm idei pryrodovidpovidnosti u psykhologo-pedagogichnii spadshchyni S. Baleia, Filosofski poshuky, 1999, Vol. IX, pp. 9–15.

Vernykov M. M. Zhyttia i naukova diialnist akademika Stepana Baleia: [peredm. do zibr. pr.], Lviv, O., 2002, Part 1, pp. 19–79.

Vernikov M. M. Spadshchyna Stepana Baleia v konteksti suchasnogo suspilnogo rozvytku i yogo tendentsii , Filosofski poshuky, 1999, Vol. IX, pp. 3–8.

Vernikov M. M. Filosofski i psykhologichni pogliady Stepana Baleia: do 110-richchia z dnia narodzhennia vchenogo, Ukrainskyi osvitnii zhurnal, 1995, № 1, pp. 29–36.

Haponenko Ye.L. Rozrobka metodolohichnykh zasad psykhoanalizu Stepanom Baleiem, Uchyonye zapiski Tavricheskogo nacyonalnogo universiteta im. V.I.Vernadskogo. Seriya «Filosifiya. Kulturologiya. Sociologiya». Part 24 (65). 2012. № 4, pp. 347–353.

Zborovska N.V. Psykhoanaliz i literaturoznavstvo: posibnyk, Kyiv, Akademvydav, 2003, pp. 328–335.

Kvas O. Dytynstvo u psykhologo-pedagogichnyh doslidzhenniah Stepana Baleia, Visnyk NTUU «KPI». Filosofiia. Psykhologiia. Pedagogika. Vol. 2'2010, pp. 143–145.

Luchko O. Pryrodovidpovidnist yak pryntsyp navchannia i vyhovannia u pratsiah Stepana Baleia, Pedagogika i psyhologiia profesiynoi osvity, 1999. № 5, pp. 22–23.

Maletskyi V. G. Spivvidnoshennia suspilstva i liudyyi v konteksti suspilnoi psykhologii Stepana Baleia, Visn. Nats. tehn. un-tu «Kharkivskyi politekhnichnyi Instytut», 2008, № 11, tem vip. : Filosofiia, pp. 110–118.

Pavlychko S. Froidysm yak krytychnyi dyskurs: Stepan Balei, [electronic resource], mode of access: http://www.e-reading.link/chapter.php/1017952/50/Pavlichko-Teoriya literaturi.html

Stepan Balei u svitli providnykh filosifskykh napriamiv XX stolittia: monohrafiia, Lviv: PP «Aral», 2014, 360 p.

Yatyshchuk A. Pytannia formuvannia i rozvytku osobystosti u naukovii spadshchyni Stepana Baleia, Zbirnyk naukovych prats Instytutu psykhologii imeni H.S.Kostiuka NAPNU. Problemy zagalnoi ta pedagogichnoi psykhologii, part XIV, vol. 1, pp. 404–410.

Bach T. Sprawozdanie z uroczystej Sesji poswieconej dzialalnosci i dorobkowi naukowemu profesora Stefana Baleya w XV rocznice jego smierci, Psychologia Wychowawcza, 1968, № 3, pp. 294–298.

Balei, Stepan [Balej] // Encyclopedia of Ukraine, Toronto : Toronto Press, 1984, Vol. 1, Р. 165.

Baley S. Drogi samopoznanie / Stefan Baley. – [wyd. 2-е], Krakow: Wiedza. Zawod. Kultura, 1947, 178 p. – (O zyciu dla zycia).

Baley S. Encyklopedia Powszechna / Stefan Baley, Warszawa, PWN, 1983, p. 212.

Baley S. Osobowosc, Lwow : Licealna Biblioteczka Filozoficzna, 1939, Part. 5, 36 p.

Baley S. Psychologja kontaktu wychowawczego: [scrypty z wykladow wygloszonych w trzym. jesiennym i zimowym roku akadem. 1930/1931] / Stefan Baley; [oprac. A. Poznanska], Warszawa: Kolo Pedagogiczne Studentow Uniwersytetu Warszawskiego, 1931, 72 p.

Baley S. Psychologja wieku dojrzewania, Lwow; Warszawa, Ksiaznica-Atlas, 1932, 262 p.

Baley S. Psychologia wychowawcza w zarysie, Warszawa, PWN, 1958, 415 p.

Baley S. Wielka Encyklopedia Powszechna, Warszawa, PWN, 1962, T. 1, p. 568.

Baley S. Wprowadzenie do psychologii wspolcznej, Warszawa, PWN, 1959, 227 p.

Baley S. Zarys psychologji w zwiazku z rozwojem psychiki dziecka, Lwow; Warszawa, Ksiaznica-Atlas, 1935, 424 p.

Blachowski S. O «Psychologii wychowawczej» Stefana Baleya, Psychologia wychowawcza w zarysie, Warszawa, 1958, pp. V–X.

Czerniewski W. Stefan Baley (4.XII.1885 – 13.XI.1952), Ruch Pedagogiczny, 1965, № 5–6, pp. 86–89.

Craighead E. W. Between Two World Wars (1918 – 1939), The Corsini Encyclopedia of Psychology and Behavioral Science, New York, 2002, Vol. 3, p. 1218.

Dobrowolska J. Wspomnienie o profesorze Stefanie Baleyu w 30. rocznice smierci, Wychowanie w Przedszkole, 1982, № 7–8, pp. 358–361.

Golab A. Sesja Baleyowska w Warszawie, Ruch Pedagiczny, 1968, № 4, pp. 476–482.

Holowinski I. Special Education in Eastern Europe. Assesment and evalution in Poland, The Journal of Special Education, 1975, № 3, pp. 435–437.

Jadczak R. Stefan Baley / Ryszard Jadczak, Mistrz i jego uczniowie, Warszawa, 1997, pp. 68–70.

Jadczak R. Z miedzywojennej dzialalnosci Stefana Baleya (1885–1952) na polu psychologii i pedagogiki, Psychologia wychowawcza, 1995, № 3, pp. 204–215.

Kosnarewicz E. Stefan Baley, Slownik psychologow polskich, Poznan, 1992, pp. 19–21.

Kupisiewicz С. Poczet wybitnych nauczycieli: Stefan Baley, [electronic resource], mode of access : http://archiwalna.glos.pl/arch.php?idg=132&id=921.

Meszka B. Bibliografia podmiotowo-przedmiotowa prof. dr Stefana Baleya : [maszynopis], Lodz, Uniwersytet Lodzki, 1987, 208 p. – (Praca magisterska dostepna w Katedrze Bibliotekoznawstwa i Informacji Naukowej UL)

Mulligan K. Musils analyse des Gefuhls, Swiss Philosophical Preprint Series, 2009, № 81, pp. 87–110.

Pawlowski W. Fragen der Erziehung und Selbstverwirklichung des Menschen im wissenschaftlichen Nachlass und in der praktischen Arbeit von Stefan Baley, Europa – Nachdenken und Vordenken: Regionale, nationale und europeiische Identiteiten Personlichkeiten im europeiischen Bildungswessen, Berlin, 2007, pp. 279–287.

Roszak J. Social Psychology In Poland, Bulletin Of The British And East European Psychology Group, 2007/8, № 26, pp. 6–8.

Stefan Baley. Skala pisma dzieci szkol powschechnych, L'annee psychogique, 1939, Vol. 40, № 1, pp. 697–704.

Suchodolski B. Stefan Baley (1885–1952), Nauka Polska, 1953, № 1, pp. 221–222

Wojtynski W. Pamieci profesora Baleya, Psychologia Wychowawcza, 1958, № 1, pp. 4–8.

Zebrowska M. Od redakcji / Baley S. // Wprowadzenie do psychologii wspulczesnej, Warszawa, 1959, pp. 5–7.

Ziemnowicz M. Stefan Baley na tle wspolczesnej epoki, Roczniki Humanistyczne, 1953, Part. IV, pp. 141–167.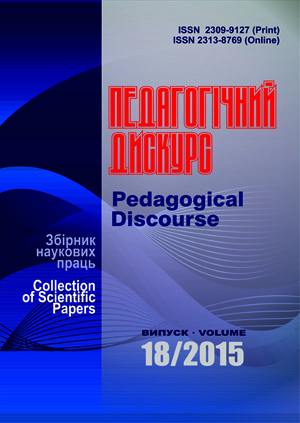 How to Cite
Fanenshtel, N. (2015). Stefan Balei's Psychological-Pedagogical Inheritance in the Foreign and Native Scientific Discourse. Pedagogical Discourse, (18), 242-248. Retrieved from http://ojs.kgpa.km.ua/index.php/peddiscourse/article/view/293
This work is licensed under a Creative Commons Attribution-NonCommercial-ShareAlike 4.0 International License.