The Periodization of Establishment and Development of School Geographical Education (ХІХ-ХХ Centuries)
Inna Shorobura

Khmelnytskyi Humanitarian-Pedagogical Academy
Keywords:
school geographical education, periodization
Abstract
The periodization of establishment and development of school geographical education (ХІХ-ХХ centuries) are scrutinized in the article. We distinguish the following periods in the development of school geographical education: I period – XVIII c.; II period – XIX c.; III period – 1905-1920; IV period – 1920-1991; V – the modern period.
Downloads
Download data is not yet available.
References
Борисенко В. Й. Курс української історії: з найдавніших часів до ХХ століття / В. Й. Борисенко. – К., 1996. – 251 с.
Гупан Н. М. Історіографія розвитку історико-педагогічної науки в Україні / Н. М. Гупан. – К. : НПУ ім. М. П. Драгоманова, 2000. – 222 с.
Максаковский В. П. Новые взгляды на географическое образование / В. П. Максаковский. – М., 1986. – 96 с.
Мельничук Л. І. Становлення і розвиток шкільної географічної освіти в Україні в першій половині ХХ століття : автореф. дис. … канд. пед. наук / Л. І. Мельничук. – К., 2004. – 19 с.
Сухомлинська О. В. Історико-педагогічний процес: нові підходи до загальних проблем / О. В. Сухомлинська. – К. : АПН, 2003. – 68 с.
Шульга І. К. История школьного естествознания в России : автореф. диссерт. на соискание ученой степени канд. пед. наук : 13.00.01 / І. К. Шульга. – К., 1954. – 19 с.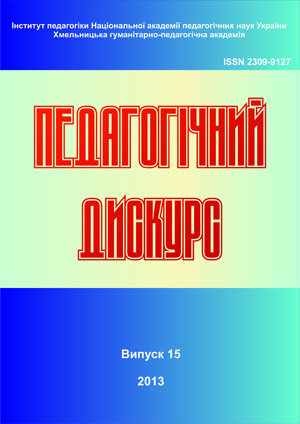 How to Cite
Shorobura, I. (2013). The Periodization of Establishment and Development of School Geographical Education (ХІХ-ХХ Centuries). Pedagogical Discourse, (15), 758-763. Retrieved from http://ojs.kgpa.km.ua/index.php/peddiscourse/article/view/955
Copyright (c) 2013 Pedagogical Discourse
This work is licensed under a Creative Commons Attribution-NonCommercial-ShareAlike 4.0 International License.