Theoretical Approaches to Forming Professional Competence of the Future Firemen-Rescuers
Abstract
The article deals with the effective functioning of the system of training of the competent worker- fireman, the factors that can be applied to the fireman in the process of conducting fire and rescue operations have been singled out. The analysis of educational programs of professional training of firemen in Germany, Republic of Poland, the USA has been conducted. Methodological approaches and practical training of the required skills, the process of teaching the firemen compulsory following the requirements for personal safety under various conditions of task execution have been examined.
The objectives as for the further research and grounding of the effective method of increasing the level of competence of firemen in domestic educational vocational and technical institutions have been determined. The section of training in imitation of training of firemen in EU countries and the USA has been studied. The determinant tasks for the firemen have been mentioned. Comparative analysis of training firemen-rescuers in these countries has been done.
The algorithm of forming professional competence of firemen during the initial training has been determined. The tasks as for the further researches in the sphere of methodology of practical training as a component of forming professional competence of firemen have been traced.
Key words: fireman-rescuer, educational programs, technology of training, criteria of competence forming.     
Downloads
Download data is not yet available.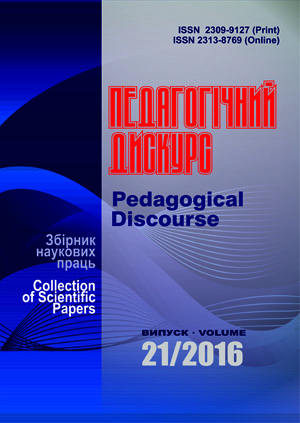 How to Cite
Shorobura, I., & Krasutska, I. (2016). Theoretical Approaches to Forming Professional Competence of the Future Firemen-Rescuers. Pedagogical Discourse, (21), 192-196. Retrieved from http://ojs.kgpa.km.ua/index.php/peddiscourse/article/view/160