Preparation of Specialists of Primary Education for New School in Khmelnytskyi Humanitarian-Pedagogical Academy
Abstract
The article reveals the main directions of primary education specialists training for the new Ukrainian school in Khmelnytskyi Humanitarian-Pedagogical Academy. The key and subject competences, outlined in «Conceptual Foundations of Reforming Secondary Education «New Ukrainian school», to the implementation of which the future teachers should be prepared, have been cleared out. To the key competencies belong the ability to learn, to communicate in official, native and foreign languages, mathematical and basic competences in the field of natural science and technology, information- communicational, social, civic, general-cultural, business and health preserving competences. To the subject (branch) competences belong communicative, literary, artistic, aesthetic, interdisciplinary, natural-scientific and mathematical, project-technological, information-communicative, social, historical and health preserving competences. In the conceptual bases 10 key competencies of the New Ukrainian school have been revealed.
It is focused on upgrading of specialists of new formation preparation based on competence approach that focuses on active and independent mastering by the students theoretical and practical knowledge. It is emphasized on the need for strengthening the pedagogical orientation of education, mastering innovative technologies, creation of modern educational environment. The attention is drawn to the holding of scientific and practical conferences, seminars, volunteer projects, conducting practice, writing the diploma and course projects on the issue of development of the New school.
Key words: New Ukrainian school, Khmelnytskyi Humanitarian-Pedagogical Academy, specialists of primary education, realization of the goals of the New school.
Downloads
Download data is not yet available.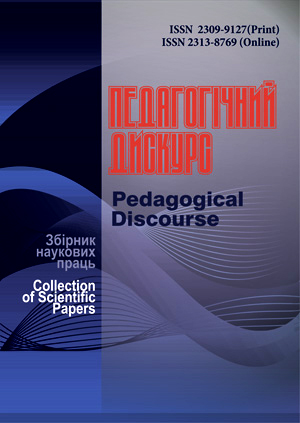 How to Cite
Shorobura, I. (2017). Preparation of Specialists of Primary Education for New School in Khmelnytskyi Humanitarian-Pedagogical Academy. Pedagogical Discourse, (22), 192-197. Retrieved from http://ojs.kgpa.km.ua/index.php/peddiscourse/article/view/42