Studies of Axiological Space of Students Studying Pedagogics
Andrzej Kokiel

University of Humanities in Szczecin
Abstract
The main contents tend to render, via analysis, an influence of social-economical elements on the evaluation system of Students of Pedagogy. Those people after graduation will probably start working with children, teenagers or people who are in a difficult life situation, so generally people who need a mature guide and a leader.
It is proved that changes occurring in economy, politics and society, after Poland's accession to the UE and Schengen area or regarding the world economical crisis, did not lead to any worrying changes in the evaluation system of the examined students.
Moral and pro-social values stand high in their hierarchy. According to that, it can be found that those people are characterized by high moral qualifications which are fundamental in starting a career work as a pedagogue.
Downloads
Download data is not yet available.
References
P. Oleś, System klasyfikacji wartości. Założenia, zastosowanie, przegląd niektórych technik. «Rocznik Filozoficzny» t. XXXI. 1983.
G. Adamczyk, Wartości społeczne w świadomości młodzieży niemieckiej i polskiej. KUL, Lublin 2003.
J. Nikitorowicz, Pogranicze, tożsamość, edukacja międzykulturowa. Trans Humana, Białystok 1995.
S. Lis, Proces socjalizacji dziecka w środowisku pozarodzinnym. PWN, Warszawa 1992.
S. Bartel, Realizacja wartości «pracowitość» a samowiedza i doświadczenia wychowawcze młodzieży. Trans Humana, Białystok 1996.
F. Adamski, Sytuacja społeczno-moralna kraju u zarania trzeciej Rzeczypospolitej i jej aspekty wychowawcze. W: F. Adamski (red.), Wartości – społeczeństwo – wychowanie. UJ, Kraków 1995.
B. Hajduk, Socjalizacja studentów. Żak, Warszawa 2003.
A. Sułek, Przemiany wartości życiowych. PWN, Warszawa 1979.
J. Mariański, Młodzież między tradycją a ponowoczesnością. KUL, Lublin 1995.
R. Siemieńska, Socjalizacja w zmieniającym się społeczeństwie. [W:] M. Marody (red.), Oswajanie rzeczywistości. Instytut Studiów Społecznych, Warszawa 1996, s. 185.
K. Olechnicki, P. Załęcki, Słownik socjologiczny. Graffiti BC, Toruń 2000.
R. B. Woźniak, Zarys socjologii edukacji i zachowań społecznych. BWSzH, Koszalin 1998.
E. Mandal, Psychologiczna analiza procesu socjalizacji. W: E. Mandal, R. Stefańska–Klar (red.), Współczesne problemy socjalizacji. UŚ, Katowice 1995.
S. Ossowski, Z zagadnień psychologii społecznej. PWN, Warszawa 2000.
K. Ostrowska, W poszukiwaniu wartości. GWP, Gdańsk 1994.
E. Wołodźko, Wartości w kształtowaniu osobowości podmiotów procesu wychowania. W: U. Ostrowska (red.), Aspekty aksjologiczne w edukacji. UW-M, Olsztyn 2000.
A. Gurycka, System wartości młodzieży licealnej a oddziaływania szkoły. UW, Warszawa 1986.
K. Juszczak, Doskonalenie zawodowe nauczycieli w obecnej rzeczywistości. [W:] E. Murawska (red.), Nauczyciel na drogach i bezdrożach współczesności. Między bezradnością a nadzieją. Adam Marszałek, Toruń 2009.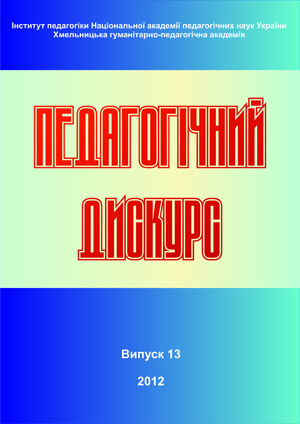 How to Cite
Kokiel, A. (2012). Studies of Axiological Space of Students Studying Pedagogics. Pedagogical Discourse, (13), 153-157. Retrieved from https://ojs.kgpa.km.ua/index.php/peddiscourse/article/view/1000
Copyright (c) 2012 Pedagogical Discourse
This work is licensed under a Creative Commons Attribution-NonCommercial-ShareAlike 4.0 International License.