Organizational Aspects of Realization of Ecological Education in the Educational Process of Preschool Establishments of Ukraine in 1990-s
Nadiya Kravets

Vasyl Stefanyk Precarpathian National University
Keywords:
ecological education, educational process, research activity, experience, experiment
Abstract
The article analyzes the scientists' views to the problem of organization ecological education in preschool institutions in Ukraine in 1990-s. Also the article exposes the essence of the concepts «experience», «experiment», «research activity».
Downloads
Download data is not yet available.
References
Базова програма розвитку дитини дошкільного віку «Я у Світі» / упоряд. О. Л. Кононко. – К. : Світич, 2008. – 224 с.
Гончаренко С. Український педагогічний словник / С. Гончаренко. – К. : Либідь, 1997.
Державна національна програма «Освіта» («Україна ХХІ століття»). – К.: Райдуга, 1994. – 61 с.
Лисенко Н. В. Дошкільник і екологія / Н. В. Лисенко. – К.: РУМК, 1991. – 83 с.
Практична екологія для дітей : навч.-метод. посіб. для батьків, вихователів, учителів. – Івано-Франківськ : «Сіверсія» ЛТД, 1999. – 24 с.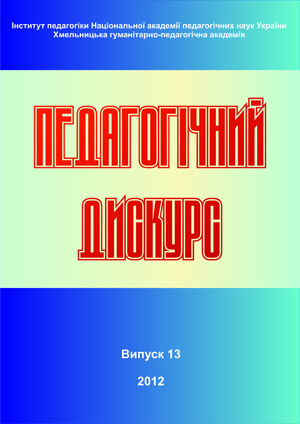 How to Cite
Kravets, N. (2012). Organizational Aspects of Realization of Ecological Education in the Educational Process of Preschool Establishments of Ukraine in 1990-s. Pedagogical Discourse, (13), 166-169. Retrieved from https://ojs.kgpa.km.ua/index.php/peddiscourse/article/view/1004
Copyright (c) 2012 Pedagogical Discourse
This work is licensed under a Creative Commons Attribution-NonCommercial-ShareAlike 4.0 International License.