Creatively-Gifted Preschooler in Multicultural Environment
Nadiya Lazarovych

Vasyl Stefanyk Precarpathian National University
Keywords:
endowments, creative personality, multiculture, child, preschool age
Abstract
The state of the problem of educational process of children of preschool age is analysed in the article. Importance of development of creative personality of preschool child is grounded, influence of multicultural environment to the mastering of general skills of management creative activity is shown.
Downloads
Download data is not yet available.
References
Базовий компонент дошкільної освіти в Україні. – К. : Ред. ж-лу «Дошкільне виховання», 1999. – 59 с.
Бех І. Д. Виховання особистості : у 2-х кн. / І. Д. Бех // Кн. 1 : Особистісно орієнтований підхід: теоретико-технологічні засади : навч.-метод. вид. – К., 2003.
Богуш А. М. Українське народознавство в дошкільному закладі / Богуш А. М., Лисенко Н. В. – К., 2002.
Вікова та педагогічна психологія : навч. посіб. / [О. В. Скрипченко, Л. В. Долинська, З. В. Огороднійчук та ін.]. – К. : Вища школа, 2001. – 246 с.
Коментар до Базового компонента дошкільної освіти в Україні : наук.-метод. посіб. / наук. ред. О. Л. Кононко. – К. : Ред. журн. «Дошкільне виховання», 2003. – 243 с.
Кононко О. Л. Психологічні основи особистісного становлення дошкільника (Системний підхід) / О. Л. Кононко. – К., 2000.
Лазарович Н. Природа – джерело обдарованості. Програма розвитку інтелектуальних і творчих здібностей дітей старшого дошкільного віку / Н. Лазарович. – Івано-Франківськ, 2006. – 31 c.
Моляко В. О. Концепція виховання творчої особистості / В. О. Моляко. – К. : Рад. школа, 1991. – 62 с.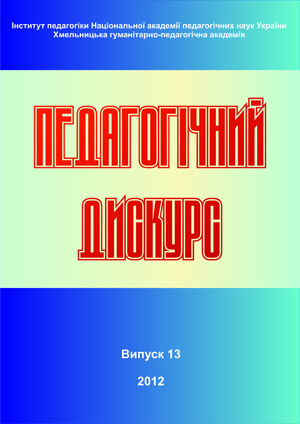 How to Cite
Lazarovych, N. (2012). Creatively-Gifted Preschooler in Multicultural Environment. Pedagogical Discourse, (13), 174-176. Retrieved from https://ojs.kgpa.km.ua/index.php/peddiscourse/article/view/1006
Copyright (c) 2012 Pedagogical Discourse
This work is licensed under a Creative Commons Attribution-NonCommercial-ShareAlike 4.0 International License.