Features of Social Adaptation of Teenagers from Families of Migrant Workers
Iryna Lyzun

Lesya Ukrainka Eastern European National University
Keywords:
teenager, social adaptation, work migration
Abstract
The article deals with the main features of the social adaptation of teenagers from families of migrant workers. The stages, which the teenager passes at a time of acquaintance with new social environment are defined.
Downloads
Download data is not yet available.
References
Кислий В. Д. Особливості соціально-психологічної адаптації офіцерів-випускників до діяльності в особливих умовах : дис. ... канд. психол. наук : 19.00.09 / В. Д. Кислий. – К., 2003. – 194 с.
Психология в управлении человеческими ресурсами : учеб. пособ. / Т. С. Кабаченко. – СПб. : Питер, 2003. – 400 с.
Соціально-педагогічна та психологічна робота з дітьми трудових мігрантів : навч.-метод. посіб. / за ред. К. Б. Левченко, І. М. Трубанівої, І. І. Цушка. – К. : ФОП «Чальцев», 2008. – 384 с.
Словник основних термінів і понять з превентивного виховання / за заг. ред. доктора пед. наук, професора Оржеховської В. М. – Тернопіль : ТзОВ «Терно-граф», 2007. – 200 с.
Ткачишина О. Р. Соціально-психологічна адаптація особистості як невід'ємна складова її соціалізації / О. Р. Ткачишина // Проблеми загальної та педагогічної психології : зб. наук. праць Ін-ту психології ім. Г. С. Костюка АПН України. – К., 2006. – Т. VIII. – Вип. 1. – С. 341–348.
Урбанович А. А. Психология управления : учеб. пособ. / А. А. Урбанович. – Мн. : Харвест, 2001. – 640 с.
Звітні матеріали соціального дослідження «Діти трудових мігрантів: особливості соціальної поведінки» [Електронний ресурс]. – Режим доступу : http://caritas-ua.org/index.php?option=com_content&task=view&id=220&Itemid=23.
Щодо вдосконалення соціального захисту дітей трудових мігрантів Аналітична записка [Електронний ресурс]. – Pежим доступу: http://www.niss.gov.ua/articles/825/.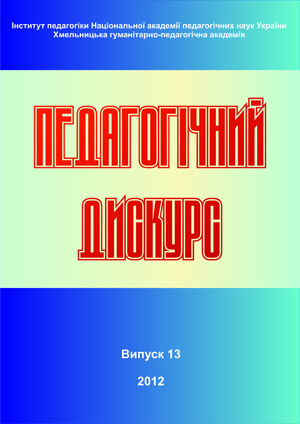 How to Cite
Lyzun, I. (2012). Features of Social Adaptation of Teenagers from Families of Migrant Workers. Pedagogical Discourse, (13), 182-185. Retrieved from https://ojs.kgpa.km.ua/index.php/peddiscourse/article/view/1008
Copyright (c) 2012 Pedagogical Discourse
This work is licensed under a Creative Commons Attribution-NonCommercial-ShareAlike 4.0 International License.