Formation of Professional-Value Guidelines in the Future Specialists of Preschool Establishments Preparation
Oleksandra Lysenko

Vasyl Stefanyk Precarpathian National University
Keywords:
values, guidelines, professional-value guidelines
Abstract
The article presents the basic classification of values, the main ones are described. Conformities of formation of professional-value guidelines ​​in the sphere of higher pedagogical education are singled out. Formation of the hierarchy of professional-value guidelines of students are studied.
Downloads
Download data is not yet available.
References
Данилів М. А. Місце і роль ціннісних орієнтирів у системі світогляду : автореф. дис. на здобуття наук. ступеня канд. філософ. наук / М. А. Данилів. – М., 1993. – 16 с.
Комплексний підхід до удосконалення навчально-виховного процесу у ВУЗі. – Новосибірськ, 1985. – 112 с.
Нові цінності освіти: тезаурус для вчителів і шкільних психологів / під ред. Н. Крилової. – М. : Інститут педагогічних інновацій, 1995.
Сластьонін В. Антропологічний підхід у педагогічній освіті / В. Сластьонін // Народна освіта. – 1994. – № 9–10. – С. 124–127.
Собкін В. Життєві цінності і ставлення до освіти / В. Собкін. – М. : Наука, 1994.
Цінності культури і сучасна епоха. – М., 1990. – 132 с.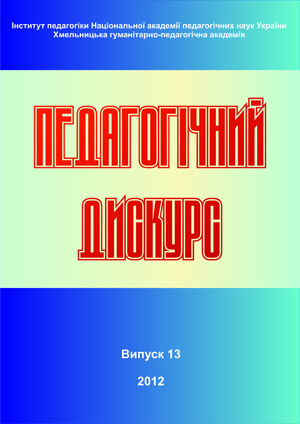 How to Cite
Lysenko, O. (2012). Formation of Professional-Value Guidelines in the Future Specialists of Preschool Establishments Preparation. Pedagogical Discourse, (13), 193-196. Retrieved from https://ojs.kgpa.km.ua/index.php/peddiscourse/article/view/1010
Copyright (c) 2012 Pedagogical Discourse
This work is licensed under a Creative Commons Attribution-NonCommercial-ShareAlike 4.0 International License.