Ethno-Psychological Aspects of Education of Transcarpathian Region
Maryana Marusynets'

Dragomanov National Pedagogical University
Keywords:
ethnic psychology, culture, education, literacy
Abstract
The article examines ethnopsychological aspects of the origin of culture, education, science in Transcarpathian region in different periods of existence; the role of priesthood, political and social leaders in the development and establishment of culture and education of countrymen is outlines.
Downloads
Download data is not yet available.
References
Данилюк Д. Д. З історії заселення та розвитку культури Закарпаття в добу феодалізму (до середини ХІХ ст.) : посіб на допомогу студентам і вчителям у вивченні історії рідного краю / Данилюк Д. Д., Ілько В. І. – Ужгород, 1990. – 72 с.
Українські Карпати : Матеріали міжнародної наукової конференції «Українські Карпати: етнос, історія, культура» (Ужгород, 26 серп. – 1 верес. 1991 p.). – Ужгород : Карпати, 1993. – 610 с.
Євтух В. Б. Міжетнічна взаємодія у карпатському регіоні: деякі методологічні проблеми дослідження / В. Б. Євтух // Українські Карпати: Матеріали міжнародної наукової конференції «Українські Карпати: етнос, історія, культура» (Ужгород, 26 серп. – 1 верес. 1991 p.). – Ужгород : Карпати, 1991.
Євтух В. Етнічний ренесанс: випадковість чи закономірність / В. Євтух // Всесвіт. – 1990. – № 7.
Гуцульщина. Історико-етнографічне дослідження. – К. : Наукова думка, 1987. – С. 10–22.
Украинские Карпаты. Культура. – К. : Наукова думка, 1989. – С. 17–20, 192–198.
Бромлей Ю. В. Проблемы этнографического изучения культурной общности населения Карпат / Бромлей Ю. В., Грацианская Н. Н. // Карпатскийсборник. – М. : Наука, 1976.
Лучкай М. Історія карпатських русинів церковна і світська (давня і нова) аж по наш час / М. Лучкай // Том 1. Науковий збірник музею української культури у Свиднику. –Пряшів, 1983. – Т. 11.
Лучкай М. Граматика слов'яно-руська / М. Лучкай. – К., 1989.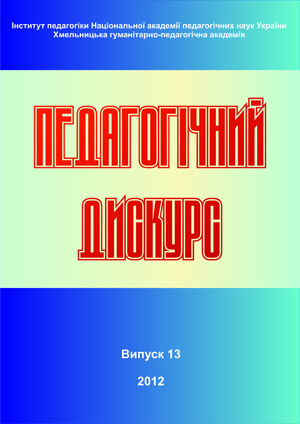 How to Cite
Marusynets', M. (2012). Ethno-Psychological Aspects of Education of Transcarpathian Region. Pedagogical Discourse, (13), 210-215. Retrieved from https://ojs.kgpa.km.ua/index.php/peddiscourse/article/view/1014
Copyright (c) 2012 Pedagogical Discourse
This work is licensed under a Creative Commons Attribution-NonCommercial-ShareAlike 4.0 International License.