The Role of the Task Book in the Methodical Complex in General Chemistry
Keywords:
educational process, tutorial textbook, educational-methodical complex, teaching of chemistry, educational technologies, higher education
Abstract
The article presents introduction of the educational and methodical complex of the discipline general chemistry as the first stage in the technology of education based on modern pedagogical and psychological ideas. The role of tutorial textbooks are highlighted as the integral part of the educational and methodical complex of general chemistry with the purpose of organizing the educational process in the classical university. The modern approach of the development of educational and methodical complex for educational disciplines was analyzed in particular and in general. The educational and methodical fundamentals for such complexes are substantiated that would help to improve paradigm «lifelong learning» and Bologna principles. The classification of teaching tools in the scale of chemical disciplines is the topical subject of methodical science. Many authors consider tutorial textbooks to be visual teaching tool, while others refer textbooks to the main teaching tools and they combine textbooks into one group of teaching tools called educational editions.
The important principle of the educational and methodical complex development of the discipline is the principle of the conformity of educational material to level of development of the modern chemical science. It is very important to involve general pedagogical methods for organizing a teaching of chemistry in the higher school. Author's tutorial textbook «Collection of selected problems in general chemistry» is prepared in accordance to the academic programs in general chemistry for applicants of bachelor degree of higher education, both chemical and non-chemical specialties of higher school. Scientific and educational editions of author are used from discipline general chemistry which is taught at the classical universities for students of chemical, pedagogical, engineering and other specialties.
Downloads
Download data is not yet available.
References
Tkachuk, H. S. (2020). Zahalna khimiia. Konspekt lektsii [General Chemistry. Lecture Notes]. Khmelnytskyi: KhNU [in Ukrainian].
Tkachuk, H. S., & Bubenshchykova, H. T. (2009). Zbirnyk vybranykh zadach iz zahalnoi khimii [Collection of Selected Problems in General Chemistry]. Lviv: Novyi Svit – 2000 [in Ukrainian].
Maksymov, O. S. (2014). Metodyka vykladannia khimii u vyshchykh navchalnykh zakladakh [Methods of Teaching Chemistry in Higher School: Textbook for Chemistry Students Specialties of Higher School of I-IV Levels of Accreditation]. Melitopol [in Ukrainian].
Hurniak, I. A. (2008). Metodyka realizatsii kompetentnisnoho pidkhodu v protsesi navchannia khimii [Methods of Implementing the Competence Approach in the Process of Teaching Chemistry]. Sumy [in Ukrainian].
Standart vyshchoi osvity Ukrainy: pershyi (bakalavrskyi) riven, haluz znan 10 Pryrodnychi nauky, spetsialnist 102 Khimiia: Zatverdzheno i vvedeno v diiu nakazom MON Ukrainy vid 24.04.2019 r. № 563 [Standard of Higher Education of Ukraine]. Retrieved from https://mon.gov.ua/storage/app/media/vishcha-osvita/zatverdzeni%20standarty/2019/04/26/102-himiya-bakalavr-1.pdf [in Ukrainian].
Trojczak, P., Lizakowski, P., & Tkachuk, H. (2019). Industrial wastewater treatment control by a minimax principle over weakly measured pollution. Control Engineering and Applied Informatics, 21 (1), 61–69 [in English].
Telehus, V. S., Bodak, O. I., Zarechniuk, O. S., & Kinzhybalo, V. V. (2000). Osnovy zahalnoi khimii [Fundamentals of General Chemistry]. Lviv: Svit [in Ukrainian].
Kyrychenko, V. I. (2004). Zmist i metodyka navchannia zahalnoi khimii u vyshchii tekhnichnii shkoli [Content and Methods of Teaching General Chemistry in Higher Technical School]. Khmelnytskyi: KhNU [in Ukrainian].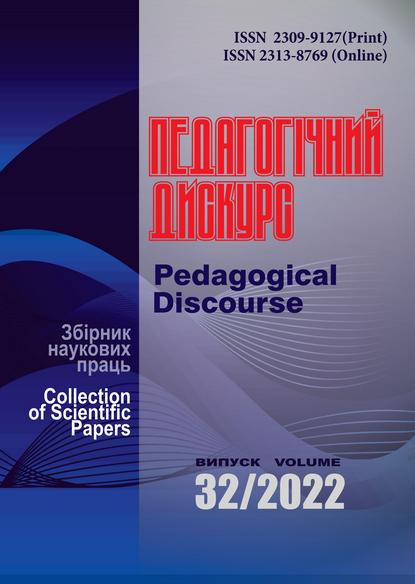 How to Cite
Tkachak, H. (2022). The Role of the Task Book in the Methodical Complex in General Chemistry. Pedagogical Discourse, (32), 7-15. https://doi.org/10.31475/ped.dys.2022.32.01
Copyright (c) 2022 Pedagogical Discourse
This work is licensed under a Creative Commons Attribution-NonCommercial-ShareAlike 4.0 International License.