The Communicative Approach to Form Metalinguistic Competencies of Students of Non-Philological Majors
Keywords:
communicative approach, metalinguistic competences, students of non-philological majors, interdisciplinary concept, sociolinguistics
Abstract
Having taken practices of the Department of Languages at Comenius University in Bratislava as an example, the article considers the content and ways to form metalinguistic competences of students of non-philological majors which are supposed to boost graduates' adaptation to dynamic changes of political, economic, and sociocultural space in the globalized world. Methodologically, the research is based on the interdisciplinary concept which interprets synergetic effects of cross-disciplinary data of theoretical and applied linguistics, sociolinguistics, multilingualism, psychology, and communication development, along with research on intercultural communication which lead to new and effective ways of interpreting linguistic phenomena in educational and situational contexts of learning a foreign language. The conclusion is made that the communicative approach serves to form speaking, reading and writing skills of the students of non-philological majors through choosing the writing register, interpreting senses, and semantic analysis of lexical units in the appropriate context. The situational dependence of educational activities is an effective means of speech motivation which provides the necessary communicative novelty to develop the ability to combine, and proactively speak, etc. It means that the final communicative goal is determined by forming students' metalinguistic competences which are characterized by syntactic, discourse and social relevance and appropriateness. It should be noted that the communicative approach makes it possible to vary different dominant ideas and procedures; additionally, it correlates with the concept of freedom, relating to the choice of means and methods of teaching, and, also, the formation of a free personality who can perceive the world in all its complexity and diversity.
Downloads
Download data is not yet available.
References
Molchanova, A. O. (2013). Tolerantnist yak tsinnisna osnova profesiinoi diialnosti pedahoha [Tolerance as a Value Basis of the Professional Activity of an Educator]. Kyiv: Instytut pedahohichnoi osvity i osvity doroslykh NAPN Ukrainy. [in Ukrainian]
Blommaert, J. (2013). Ethnography, superdiversity and linguistic landscapes: Chronicles of complexity. Bristol: Multilingual Matters. [in English]
Cenoz, J., Gorter, D. (2008). The linguistic landscape as an additional source of input in second language acquisition. International Review of Applied Linguistics in Language Teaching, 46 (3), 267–287. [in English]
Curwood, J., Lammers, J., Magnifico, A. (2014). Adolescent Writing in Online Fanfiction Spaces. Retrieved from https://www.literacyworldwide.org/blog%2Fliteracy-now%2F2014%2F03%2F14%2Fadolescent-writing-in-online-fanfiction-spaces- [in English]
Evianty, R., Sari, R., Reza, M. (2020). Developing Student's German Language Competencies through Pragmatic Approach in the Classroom for Higher Education. Budapest International Research and Critics in Linguistics and Education (BirLE) Journal, 3/1, 574–582. [in English]
Feerrar, J. (2019). Development of a framework for digital literacy. Reference Services Review, 47/2, 14–24. [in English]
Felix-Brasdefer, C. (2015). The Language of Service Encounters: A Pragmatic-Discursive Approach. Cambridge: Cambridge University Press. [in English]
Galvin, S., Greenhow, C. (2020). Writing on Social Media: a Review of Research in the High School Classroom. TechTrends, 64, 57–69. [in English]
Golato, A. (2017). Naturally Occuring Data. The Routledge Handbook of Pragmatics, eds by A. Barron, Y. Gu, G. Steen. Milton Park; New York: Routledge, 21–26. [in English]
Hämäläinen, J. (2019). Social Pedagogy as a Scientific Discipline – a Branch of Academic Studies and a Field of Professional Practice. EccoS – Revista Científica, 48, 17–34. [in English]
Holmes, J., Wilson, N. (2017). An Introduction to Sociolinguistics. London: Routledge. [in English]
Kecskes, I. (2018). Intercultural Pragmatics. In: Liedtke F., Tuchen A. (eds) Handbuch Pragmatik (pp. 140–148). Stuttgart: J. B. Metzler. [in English]
Llamas, C., Stockwell, P. (2020). Sociolinguistics. In: An Introduction to Applied Linguistics, third edition, edited by Norbert Schmitt and Michael P. H. Rodgers. London, New York: Routledge, 146–164. [in English]
Marr, T. English, F. (2019). Rethinking TESOL in Diverse Global Settings The language and the teacher in a time of change. English Australia Journal, 35 (2), 76–89. [in English]
Moneglia, M., Raso, T. (2014). Notes on Language into Act Theory. In T. Raso & H. Mello (eds), Spoken corpora and linguistic studies. Amsterdam: John Benjamins, 469–495. [in English]
Saint-Jacques, B. (2014). Intercultural Communication in a Globalized World. In: Intercultural communication: A reader, L. A. Samovar, R. E. Porter, E. R. McDaniel, C. S. Roy (pp. 16–25). Cengage Learning. [in English]
Thomas, L. (2020). What is a longitudinal study? Scribbr. Retrieved from https://www.scribbr.com/methodology/longitudinal-study/ [in English]
Tomberg, V., Laanpere, M., Ley, T., Normak, P. (2013). Sustaining teacher control in a blog-based personal learning environment. The International Review of Research in Open and Distance Learning, 14 (3), 109–133. [in English]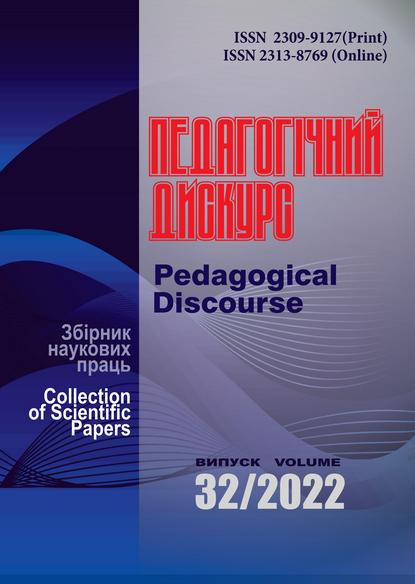 How to Cite
Gordiienko, Y. (2022). The Communicative Approach to Form Metalinguistic Competencies of Students of Non-Philological Majors. Pedagogical Discourse, (32), 28-35. https://doi.org/10.31475/ped.dys.2022.32.04
Copyright (c) 2022 Pedagogical Discourse
This work is licensed under a Creative Commons Attribution-NonCommercial-ShareAlike 4.0 International License.