Theoretical Foundations of Students' Problem-based Learning Technology in the Establishments of Higher Education
Keywords:
problem-based learning, problem situation, pedagogical technology, system of methods, principles, thinking
Abstract
In the article the peculiarities of problem-based learning as a technology are determined, its characteristics and potential in the educational process of the higher educational establishments are defined.
Thus, problem-based learning is an approach to professional education that stresses the use of real-life problems as a stimulus for learning, which is considered contextually valid, in the sense that the problems are taken from professional practice. As a result, students acquire knowledge organized around these problems being involved with reality; learn social and communicative skills in genuine discourse, which explains the rationale behind their actions.
The definition of the problem-based learning technology has been clarified. Problem-based learning technology is a learning process implementation procedure, determined by the problem situation, which defines accordingly the integrated ways of organizing problem-based teaching and problem-based learning at all stages of problem-solving as well as autonomous levels, the purpose of which is to master certain problem-solving methods at the level of skills and abilities of mental activity. It has been explored that the origin of the problem-based learning is obliged to the development of the theory of teaching methods, and its didactic characteristic reflects the structure and function of the evolving education methods. Therefore, the detailed arguments for revealing theoretical basis of the system of problem-solving methods have been advanced, including the principles on which they are founded. The following basic principles have been selected: goal-oriented, situation-based and problem-solving learning, binary approach, theory and practice relationship, consciousness and intelligibility, active engagement, autonomy, and emotionality.The theoretical foundations of the problem-based learning technology are revealed. Among those foundations there is a theory of thinking development patterns, theory of teaching and learning methods, problem situation, problem-based learning environment, subject-object-subject interaction between participants of the educational process, interdisciplinary education content.
The most challenging aspects of the future research in this area will concern the study of ways to efficiently combine problem-solving methods and to organize the educational process by the «problem scenario».
Downloads
Download data is not yet available.
References
Henk, J. M. Van Berkel, Henk, G. Schmidt (2000) Motivation to Commit Oneself as a Determinant of Achievement in Problem Based Learning Higher Education. Retrieved from https://www.researchgate.net/publication/263684971_Motivation_to_ commit_oneself_as_a_determinant_of_ achievement_in_problem-based_learning [in English]

Aleksiuk, A. M. (1998). Pedahohika vyshchoi osvity Ukrainy. Istoriia. Teoriia. [Pedagogics of Higher Education of Ukraine. History. Theory]. Kyiv: Lybid [in Ukrainian]

Vitenko, I. S. (2010). Osnovy psyholohii [Fundamentals of Psychology]. Retrived from http://pidruchniki.com/1931071037363/psihologiya/emotsiyi_pochuttya#548 [in Ukrainian]

Karpushyna, M. H. (2017). Formuvannia u maibutnikh ofitseriv-prykordonnykiv umin rozviazuvaty problemni sytuatsii u profesiinii diialnosti [Formation of Future Border Guard Officers' Abilities to Solve Problem Situations in Professional Activity]. (Extended abstract of Candidate's thesis). NADPSU im. B. Khmelnytskoho. Khmelnytskyi [in Ukrainian]

Kyryliuk, V. V. (2011). Meta, zmist ta pryntsypy pidhotovky maibutnikh ofitseriv-prykordonnykiv interektyvnymy tekhnolohiiamy z dystsyplin humanitarnoho tsyklu [Purpose, Content and Principles of Preparing Future Border Guard Officers by Interactive Technologies in Humanitarian Disciplines] Retrived from http://archive.nbuv.gov.ua/portal/soc_gum/Znpkhist/2011_4/11kvvdgc.pdf [in Ukrainian]

Kytaigorodskaia, G. A. (1986). Aktivizatsiya uchebnoy deyatelnosti studentov kak problema i zadacha vuzovskoy pedagogiki [Activization of Students' Educational Activity as a Problem and Task of University Pedagogy]. A. V. Petrovskii (Red.) Osnovy pedagogiki i psikhologii vysshey shkoly. Moscow: Izd-vo MGU [in Russian]

Kurliand, Z. N. (Ed. et al). (2005). Pedahohika vyshchoi shkoly [Pedagogy of Higher Educational Establishments]. (2-ge vyd.). Kyiv: Znannia, 2005 [in Ukrainian]

Levina, M. M. (2001). Tehnologii professionalnogo pedagogicheskogo obrazovaniia [Technologies of Professional Pedagogical Education]. Moscow: Izdatelskiy tsentr «Akademiia» [in Russian]

Lihachiov, B. T. (1998)ю Pedagogika. Kurs lektsiy [Pedagogy. Course of Lectures]. Moscow: Yurait [in Russian]

Mahmutov, M. I. (1972). Problemnoe obucheniie. Osnovnyie voprosy teorii [Problem-Based Learning. Basic Issues of the Theory]. Kazan [in Russian]

Melnykova, Ye. L. (1999). Tehnologiia problemnogo obucheniia. Shkola 2100 [Technology of Problem-based Learning. School 2100]. Obrazovatelnaiia programma, 3, 85–93 [in Russian]

Nikolenko, L. T. (2005). Osobystisno oriientovana osvita: problemy ta shliakhy realizatsii v systemi pidvyshchennia kvalifikatsii [Person-Oriented Education: Problems and Ways of Implementation into the System of Professional Development]. Uchioniye zapiski, 3, 23–27 [in Ukrainian]

Passov, Y. I. (1991). Kommunikativnyi metod obucheniia inostrannomu govoreniiu [Communicative Method of Foreign Language Teaching]. Moscow: Prosveshcheniie [in Russian]

Pometun, O. I. & Pyrozhenko, L. V. (2002). Interaktyvni tekhnolohii navchannia: teoriia i praktyka [Interactive Learning Technologies: Theory and Practice]. Кyiv [in Ukrainian]

Pometun, O. I. & Pyrozhenko, L. V. (2004). Suchasnyi urok. Interaktyvni tekhnolohii navchannia [Modern Lesson. Interactive Learning Technologies]. Кyiv: Vyd-vo А. S. К [in Ukrainian]

Rubinshtein, S. L. (2002). Osnovy obshchei psyhologii [Fundamentals of General Psychology]. Saint-Petersburg: Izdatelstvo Piter [in Russian]

Choshanov, M. A. (1996). Gibkaia tehnologiia problemno-modulnogo obucheniia [Flexible Technology of Problem-Modular Learning]. Moscow: Narodnoe obrazovanie [in Russian]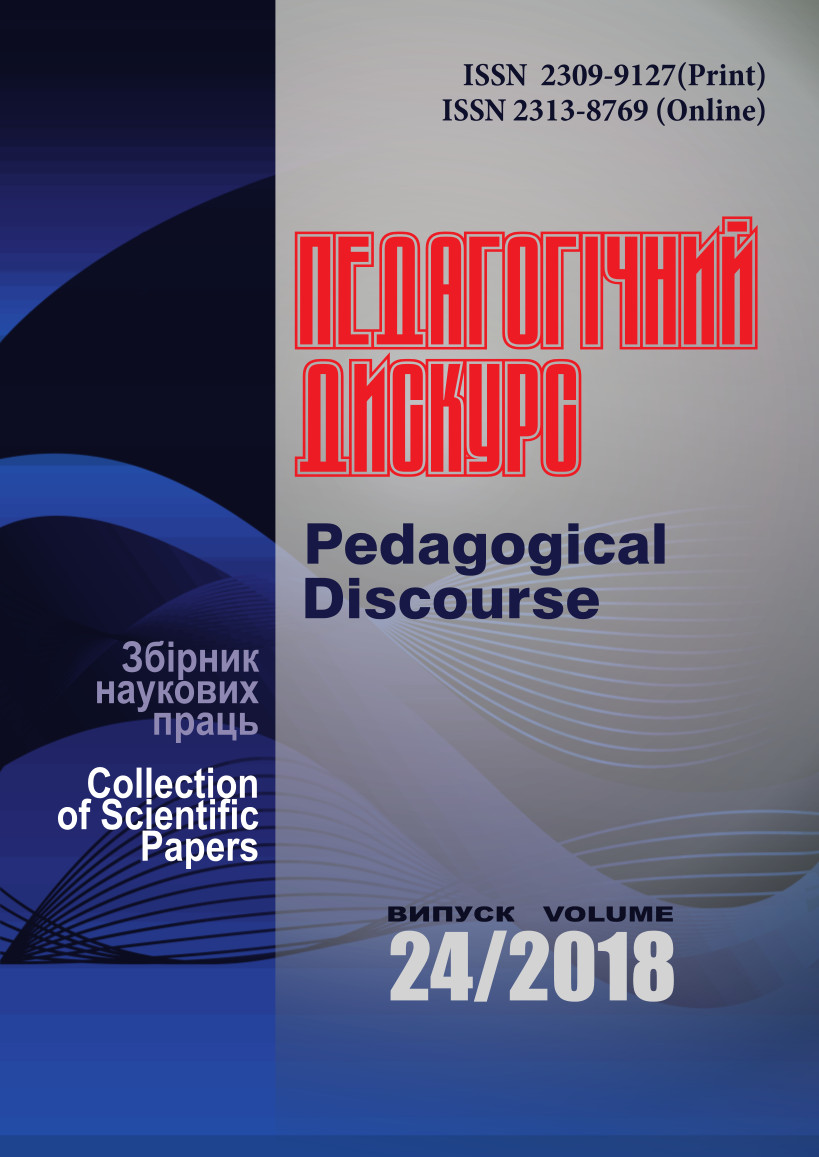 How to Cite
Karpushyna, M. (2018). Theoretical Foundations of Students' Problem-based Learning Technology in the Establishments of Higher Education. Pedagogical Discourse, (24), 50-56. https://doi.org/10.31475/ped.dys.2018.24.07