Development of Schooling in Podillia Region at the Beginning of the XIX Century
Abstract
Today, before the national historical-pedagogical science, a lot of problems arise in relation to the revealing of the historical course of the development of education system in Ukraine. Particularly relevant is the issue of the regional plan, how the system of education, including schooling, developed in different regions of Ukraine at different historical stages.
The article attempts to reveal the development of schooling in Podillia region at the beginning of the XIX century, at the time rather economically, socially and politically complicated. The article refers to the main legislative acts that have influenced the development of schooling; the government policy as for  the establishment and functioning of schools; types of general educational institutions that existed in the Podillia province of the investigated period.
The basic stages of school development, as well as the peculiarities of this process have been indicated.
Key words: development, schooling, education, educational establishments, Podillia, XIX century.
Downloads
Download data is not yet available.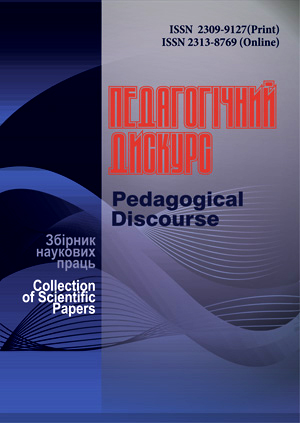 How to Cite
Kryshchuk, B. (2017). Development of Schooling in Podillia Region at the Beginning of the XIX Century. Pedagogical Discourse, (22), 71-75. Retrieved from https://ojs.kgpa.km.ua/index.php/peddiscourse/article/view/20