Science and Theoretic Essence Self-Organization Skills in Context of Teaching
Li Siyung

M.P.Drahomanov National Pedagogical University
Keywords:
self-organization, self-organization skills, teaching
Abstract
The article deals with the results of the essence of the concept «self-organization» in scientific literature, learning different directions of  scientific ways for analysis of this phenomenon functioning in the teaching context, which became the subject of profound interest of various sciences. Self-organization in general is considerd as ability to self-regulation of natural, person's  psychotic conditions, and his or her qualites. It is realized by the volitional and intellectual mechanisms, it is developed in the motives of behaviour and realized in regulated activity.
The teaching subjects self-organization skills are in the middle of science and sense area phenomenon, which is essenced, it is presented as the result of theoretic interpretations and practice using general components this kind of self-doing person. It is taken into account that effectiveness of social self-organization depends on many personal qualites. The basic of them, which help for self-organization development are revealed, among them determination, self-analysis, self-regulation, skills of foresee, independence, energetic.
Downloads
Download data is not yet available.
References
Asmolov A. G. XXI: Psihologiya v vek psihologii, Voprosy psihologii, № 1, 1999, pp. 3–13.

Afanas'eva N. A. Samoorganizaciya – faktor uspeshnosti uchebnoj dejatel'nosti, Fundamental'ny'e issledovaniya, 2008, № 2, pp. 60–61.

Bobrova L. Ju. Zhiznenny'e cennosti i kompetencii samoorganizacii studentov kak faktory professional'nogo razvitiya samosoznaniya, Nauchnyj potencial regionov na sluzhbu modernizacii, Astrahan' : AISI, 2012, № 1 (2), pp. 219–222.

Derkach A. A. Akmeologichekie osnovy razvitiya professionala, Moscow, Izd-vo Mosk. psihologo-soc. inst-ta. – Voronezh : NPO «MODJeK», 2004, 752 s.

Dudnik N. Iu. Strukturuvannia systemy umin profesiinoi samoorhanizatsii maibutnoho vchytelia, Pedahohika vyshchoi ta serednoi shkoly: zb. naukovykh prats Kryvorizkoho derzhavnoho pedahohichnoho universytetu, Kryvyi Rih : [b. v.], 2009, pp. 99–105.

D'yachenko M. I. Kratkij psihologicheskij slovar : Samoorganizaciya, Minsk : Hjelton, 1998, 399 p, p. 45.

Ishkov A. D. Vliyanie struktury processa samoorganizacii na uspeshnost' uchebnoj deyatel'nosti studentov, Moscow, 2004, 19 p.

Klimov E. A. Psihologiya professional'nogo samoopredeleniya. Rostov-na-Donu, 1996, 509 p..

Novy'j y'nciklopedicheskij slovar', Moscow, Bol'shaya Rossijskaya jenciklopediya, 2000, 1656 p.

Filonenko V. A. Aktualizatsiya professionalnoj samoorhanyzatsii budushhego spetsyalista v usloviyax sovremennogo vy'sshego professyonalnogo obrazovanyya [Electronic resource], mode of access : http://yspu.org/conferences/Training_managers/15_FilonenkoVA.doc.

Cagarelli Ju. A. Processy' samoorganizacii, samoupravleniya, samoregulyacii v muzykal'noj deyatel'nosti, Teoreticheskie i prikladny'e issledovaniya psihicheskoj samoregulyacii: Tezisy dokladov nauchnoj konferencii, Kazan', KGU, 1982, pp. 11–13.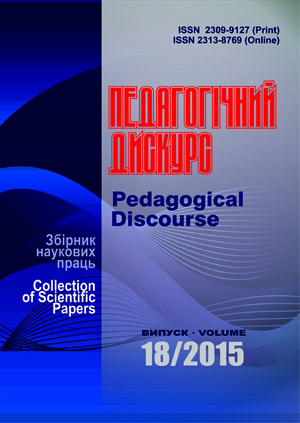 How to Cite
Siyung, L. (2015). Science and Theoretic Essence Self-Organization Skills in Context of Teaching. Pedagogical Discourse, (18), 192-196. Retrieved from https://ojs.kgpa.km.ua/index.php/peddiscourse/article/view/281
This work is licensed under a Creative Commons Attribution-NonCommercial-ShareAlike 4.0 International License.