On the Issue of Responsibility of Teens Boarding Schools
Anzhelika Tolkachova

Berdiansk State Pedagogical University
Keywords:
responsibility, morality, younger adolescents, conscience, boarding schools
Abstract
Pedagogical aspects of education responsibility in young adults schools are studied in the article. The positions of domestic and foreign researchers on the merits of responsibility as a pedagogical problem have been offered. Some approaches to the concept of responsibility, namely the characteristic of property of the entity that is interconnected with autonomy, initiative, diligence and other qualities have been singled out; ability of the individual to determine their duties and carry them, to carry out self-assessment and monitoring their implementation; a certain level of moral development of the individual; focus on the moral development of the individual. Classification of adolescents enrolled in secondary boarding schools, such as: orphans; children taken from their parents by the court; children whose parents are deprived of parental rights or convicted under arrest during the investigation, found incompetent to be on long-term care, as well as parents, the seat of which is unknown, or that otherwise do not participate in the maintenance and education of their children; thrown and street children who have no idea of ​​responsibility.
Downloads
Download data is not yet available.
References
Basiuk N. A. Vykhovannia pochuttia vidpovidalnosti v molodshykh shkoliariv. Skhodynky do vidpovidalnosti : navch.-metod. posib., Kyiv, Tsentr navchalnoi literatury, 2006, 192 p.

Gaevaya T. H. Moralnaia otvetstvennost kak kachestvo, Mоskow,1984,18 p.

Entsyklopediia batkivstva : posibnyk z simeinoho vykhovannia [avt. kol. za zah. red. Ye. I. Kovalenko, S. V. Kyrylenko]. Kyiv, KNT, 2008, pp. 38–39.

Entsyklopediia osvity / Akad. ped. nauk Ukrainy; hol. red. V. H. Kremen. Kyiv, Yurinkom Inter, 2008, pp. 106–107.

Zavadskaia Zh. E. Vospytanye otvetstvennosty u starsheklasnykov, Mynsk, Nar. asveta, 1981, 152 p.

Makarenko A. S. Metodyka vykhovnoi roboty, Kyiv, Rad. shkola, 1990, 366 p.

Masharova T. V. Socialnoe opredelenie uchashhejsya molodezhy v usloviyax sovremennogo obshhestva : monohrafiya, Kyrov, Viat. HPU, 2003,155p.

Psykholohichna entsyklopediia [avt.-upor. O. M. Stepanov]. – Kyiv, «Akademvydav», 2006, pp. 60–61.

Sukhomlynskyi V O. Vybrani tvory : u 5 Part. Kyiv, Rad. Shkol., 1997, part 4, 637 p.

Yaroshchuk L. H. Formuvannia vidpovidalnoho stavlennia do navchannia u molodshykh shkoliariv yak vazhlyva pedahohichna problema. Materiály IX mezinárodní vědecko-praktická konference «Věda a vznik 2012/2013». Díl. 21. Pedagogika. Praha. Publishing House «Education and Science» s. r. o., pp. 81–86.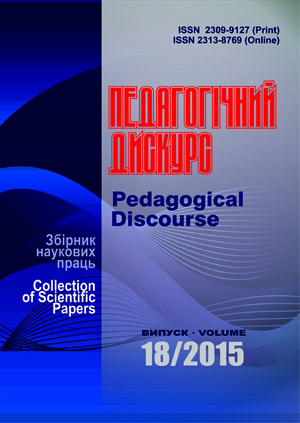 How to Cite
Tolkachova, A. (2015). On the Issue of Responsibility of Teens Boarding Schools. Pedagogical Discourse, (18), 229-232. Retrieved from https://ojs.kgpa.km.ua/index.php/peddiscourse/article/view/290
This work is licensed under a Creative Commons Attribution-NonCommercial-ShareAlike 4.0 International License.