Providing an Integrative Approach in Humanitarian Training of Future Doctors in the Conditions of Interactive Learning
Larysa Maksymchuk

Khmelnytskyi National University
Keywords:
integrative approach, training, future doctors, interactive
Abstract
Research is devoted to the problem of the quality of modern medical specialist, which should be focused on professional communication, correct in terms of rules and style, situational, contextual and adequate. The requirements to the future doctors do not only have a high level of medical knowledge and special skills, but also the presence of multicultural competence, skills of working with colleagues, patients in typical situations related to medicine and health care. It leads teachers to use new learning technologies in order to provide successful interactive learning as the driving force to overcome the psychological barriers of professionally oriented communication.
The article presents the advantages of integrated education, presented summary of actions of the teacher, it has been disclosed the essence of the integrative approach to professional humanitarian training of future doctors in terms of interactivity.
Downloads
Download data is not yet available.
References
Borysiuk A. S. Psykholohichni osoblyvosti komunikatyvnoi kompetentnosti likaria, Zbirnyk naukovykh prats: filosofiia, sotsiolohiia, psykholohiia. Ivano-Frankivsk, vyd-vo «Play» Prykarpatskoho un-tu, 2001, Volume 6, part 2, pp. 247–256.

Hlomozda V. H. Vyvchennia tem intehratyvnoho kharakteru yak sposib zdiisnennia mizhpredmetnykh zviazkiv, Pedahohika : resp. nauk.-met. zb. Kyiv, 1991, Volume 30, pp. 17–20.

Dychkivska I. M. Innovatsiini pedahohichni tekhnolohii : navch. posib. [dlia stud. vuziv]. Kyiv, Akademvydav, 2004, 352 p.

Dokuchaieva V. V. Proektuvannia innovatsiinykh pedahohichnykh system u suchasnomu osvitnomu prostori: monohrafia. Luhansk, Alma-mater, 2005, 304 p.

Entsyklopediia pedahohichnykh tekhnolohii ta innovatsii / [avt.-uklad. N. P. Navolokova]. Kharkhiv, vyd. hrupa «Osnova», 2009, 176 p. – (Seriia «Zolota pedahohichna skarbnytsia»).

Interaktyvni tekhnolohii navchannia: teoriia, dosvid : metod. posib. / [avt.-uklad. : O. Pometun, L. Pyrozhenko]. Kyiv, A.P.N., 2002, 136 p.

Kovalchuk O. Osnovy psykholohii ta pedahohiky : navch. posib. / Orysia Kovalchuk, Svitlana Kohut ; [za zah. red. L. Kovalchuk]. Lviv, vydavnychyi tsentr LNU imeni Ivana Franka, 2009, 624 p.

Kolomiiets N. A. Interaktyvne navchannia : sutnist, osnovni zasoby realizatsii, Naukovi zapysky : zb. nauk. statei Nats. ped. un-tu im. M. P. Drahomanova / ukl. P. V. Dmytrenko, L. I. Makarenko. Kyiv, NPU im. M. P. Drahomanova, 2006, Volume LXII (62), pp. 82–90.

Orban-Lembryk L. E. Komunikatyvnyi prostir mizhosobystisnykh vidnosyn, Visnyk Prykarpatskoho universytetu. Filosofski nauky. Ivano-Frankivsk, vyd-vo «Play» Prykarpatskoho universytetu, 1996, Part 2, pp. 123–131.

Fursina H. A. Formuvannia komunikatyvnoi kompetentsii studentiv vuziv v protsesi movnoi pidhotovky, Aktualni pytannia vuzivskoi nauky : zb. nauk. statey. Samara, 2005, 53 p.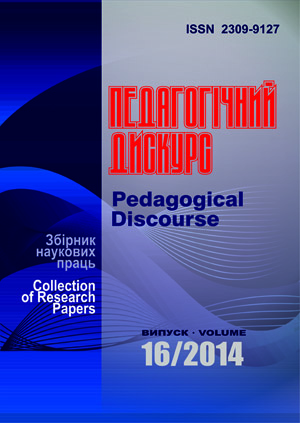 How to Cite
Maksymchuk, L. (2014). Providing an Integrative Approach in Humanitarian Training of Future Doctors in the Conditions of Interactive Learning. Pedagogical Discourse, (16), 107-112. Retrieved from https://ojs.kgpa.km.ua/index.php/peddiscourse/article/view/375
This work is licensed under a Creative Commons Attribution-NonCommercial-ShareAlike 4.0 International License.