Projecting of the Content of Pedagogical Practice of the Future Education Managers
Viktor Bereka

Khmelnytskyi National University
Keywords:
projecting of the content, pedagogical practice, education managers
Abstract
Topical problems of organization of pedagogical practice of the future education managers, some aspects of its content's projecting have been studied. The author mentions drawbacks in conducting of practical preparation of the future education managers, the functions of pedagogical practice in the process of professional preparation of education managers have been shown.
Downloads
Download data is not yet available.
References
Берека В. Є. Організація практичної підготовки слухачів магістратури за спеціальністю «Управління навчальним закладом» / В. Є. Берека. – Хмельницький : Вид-во ХІПІ, 2005. – 216 с.

Постанова ЦК КПРС і Ради Міністрів СРСР «Про заходи по дальшому вдосконаленню вищої освіти в країні».

Иванов П. В. Какой должна быть педагогическая практика студентов университетов / П. В. Иванов // Вестник высшей школы. – 1984. – № 3. – С. 30–33.

Харламов И. Ф. О концептуальных основах педагогической практики / Харламов И. Ф., Горленко В. П. // Педагогика. – 1994. – № 1. – C. 50–55.

Абдуллина О. А. Проблемы организации педагогической практики / О. А. Абдуллина // Педагогическая практика в системе подготовки будущих учителей. – М. : МГПИ,1978. – С. 238.

Иванов П. В. Какой должна быть педагогическая практика студентов университетов / П. В. Иванов // Вестник высшей школы. – 1984. – № 3. – С. 30–33.

Машкіна Л. А. Педагогічна практика у системі ступеневої підготовки вчителів початкових класів : програма та метод. реком. щодо її реалізації. – Хмельницький : Вид-во ХГПІ, 2001. – 52 с.

Васильев З. И. Непрерывное приобщение студентов к педагогической теории и практике как средство подготовки к учебно-воспитательной работе в школе / З. И. Васильєв // Молодой учитель в системе непрерывного образования. – М., 1987. – С. 10–19.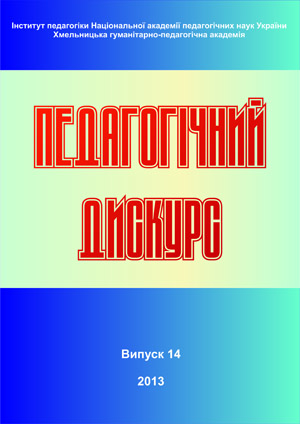 How to Cite
Bereka, V. (2013). Projecting of the Content of Pedagogical Practice of the Future Education Managers. Pedagogical Discourse, (14), 64-68. Retrieved from https://ojs.kgpa.km.ua/index.php/peddiscourse/article/view/413
This work is licensed under a Creative Commons Attribution-NonCommercial-ShareAlike 4.0 International License.