Genesis of the Problem of Historiosophic Preparation of the Future Teacher
Galyna Gamrets'ka

Khmelnytskyi Humanitarian-Pedagogical Academy
Keywords:
pedagogical education, historiosophic preparation, social and political factors
Abstract
The influence of social and political factors onto the formation of the essence and functional abilities of historiosophic preparation of the future teacher at different stages of Ukrainian society's development in the XXth century has been examined in the article. The attention is concentrated on the necessity of taking into account experience of the previous decades that is essential condition of realization of tasks of historiosophic preparation of the teacher of modern national school. The topicality for the modern conditions of person-oriented approach in teaching historic material, which were reflected in educational programs, textbooks and methodological approaches during the times of national-democratic revolution, has been determined. The conclusion about the necessity of methodological reorientation of historiosophic component in the content of pedagogical education, which must favor formation of the teacher of new world outlook and moral culture, has been done.
Downloads
Download data is not yet available.
References
Афанасьєв Ю. Л. Проблема філософсько-методологічного забезпечення формування професійної свідомості молодого фахівця / Ю. Л. Афанасьєв // Філософія освіти в сучасній Україні : матеріали всеукр. наук.-практ. конф. (1-3 лютого 1996 р.).  К. : ІЗМН, 1997.  С. 192–194.

Булда А. Професійна підготовка вчителів історії у період національно-визвольних змагань (1917-1920) / А. Булда // Історія в школі. 1998.  № 1.  С. 2–7.

Григор'єв-Наш. Історія України в народних думах та піснях / Григор'єв-Наш.  К. : Веселка, 1993.  271 с.

Гуревич А. Я. Историческая наука и историческая антропология / А. Я. Гуревич // Вопросы философии.  1988.  № 1.  С. 56–70.

Проект Єдиної школи на Вкраїні. Книга І: Основна школа.  Кам'янець-Подільський : Дністер, 1919.  172 с.

Смолій В. А. Українська історична наука на рубежі ХХІ століття: проблема пошуку нових теоретичних і методологічних підходів / В. А. Смолій // Освіта України.  1997.  4 липня.  № 27.  С. 7.

Сотніченко В. Виховання толерантності на уроках історії / В. Сотніченко // Історія в школах України.  2000.  № 2.  С. 31–36.

Тюменев А.И. Марксизм и буржуазная историческая наука / А. И. Тюменев // Памяти Карла Маркса : сб. статей к пятидесятилетию со дня смерти. 1883-1933  Л. : Изд-во АН СССР, 1933.  С. 423–507.

Фридман С. М. Проблемы педагогического труда / С. М. Фридман.  М. ; Л. : Народный комиссариат просвещения РСФСР : Госиздат, 1929.  174 с.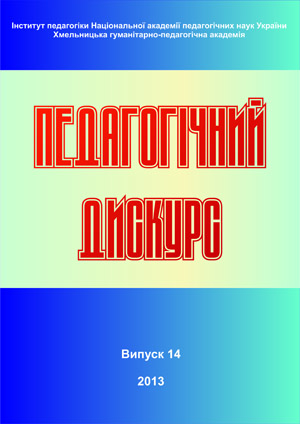 How to Cite
Gamrets'ka, G. (2013). Genesis of the Problem of Historiosophic Preparation of the Future Teacher. Pedagogical Discourse, (14), 119-124. Retrieved from https://ojs.kgpa.km.ua/index.php/peddiscourse/article/view/424
This work is licensed under a Creative Commons Attribution-NonCommercial-ShareAlike 4.0 International License.