Conceptual Bases of Target Agreements' Signing in the Context of Strategic Management of Higher Educational Institutions of Federal Republic of Germany
Myroslava Gladchenko

National University of Life and Environmental Science of Ukraine
Keywords:
target agreements, strategic management, micro-management
Abstract
Conceptual bases of target agreements' signing  in the sphere of management of higher education institutions in Federal Republic of Germany, which were formulated in the resolution of the Conference of rectors of higher education institutions of Federal Republic of Germany  have been analyzed. Practical experience of the use of the target agreements as an instrument of implementation of strategic planning in the sphere of higher education highlighted by the German scientists has been studied.
Downloads
Download data is not yet available.
References
Behm B. Developing Strategies for a Higher Education Institution and its Faculties/Departmants / Behm B., Berthold Ch. // Leadership and Governance in Higher Education. – 2011. – Vol. № 1, 2011. – Р. 2–24.

Berthold Ch. Strategisches Management an Hochschule / Berthold Ch., Behm B., Daghestani M. // Centrum fur Hochschulentwicklung. – 2011. – Arbeitspapier №140. – 151 S.

Grundsätze zu Gestaltung und Verhandlung von Zielvereinbarungen // Entschlißung des Plenums der HRK vom 14.6.2005. – Bonn : HRK, 2005. – 7S.

Hochschulrahmengesetz. – 1999. – 20 S. [Електронний ресурс]. – Режим доступу : http://www.bmbf.de/pub/HRG_20050126.pdf.

Sandberg B. Zielvereinbarungen zwischen Staat und Hochschulen – ein Deregulierungsinstrument? / Sandberg B. // Beiträge zur Hochschulforschung. – 2003. – Heft 4 (25). – S. 36–55.

Ziegele F. Zielvereinbarungen als Kern des Neuen Steuerungsmodells / Ziegele F. // Hochschulrektorenkonferenz (Hg.): Von der Qualitätssicherung der Lehre zur Qualitätsentwicklung als Prinzip der Hochschulsteuerung (Projekt Qualitдtssicherung). – Bonn: Beiträge zur Hochschulpolitik. – 2006. – № 1, Band I. – S. 77–106.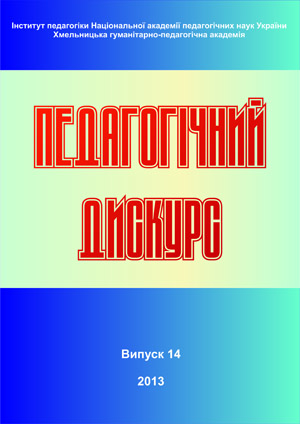 How to Cite
Gladchenko, M. (2013). Conceptual Bases of Target Agreements' Signing in the Context of Strategic Management of Higher Educational Institutions of Federal Republic of Germany. Pedagogical Discourse, (14), 124-128. Retrieved from https://ojs.kgpa.km.ua/index.php/peddiscourse/article/view/425
This work is licensed under a Creative Commons Attribution-NonCommercial-ShareAlike 4.0 International License.