Historical and Pedagogical Prerequisites of Development of Preschool Education in Khmelnytskyi Region in 1950-1960-s
Tetiana Gritsiuk

Khmelnytskyi Humanitarian-Pedagogical Academy
Keywords:
prerequisites, legal provision, kindergardens, pre-school education, public pre-school up-bringing
Abstract
The results of exploration of historical and pedagogical prerequisites which were supporting progress of preschool education in 1950-1960-s in Khmelnytskyi region are highlighted in the article. The main tendencies of the development of pre-school education and factors influenced on this process are characterized. The reasons of success and problems in the pre-school education are analyzed. The main state documents which influenced the improvement of it content are analyzed. The development of the net of kindergardens, its structure, numbers of groupes, needs of children and parents are described. Statistics are given. The conclusion of article is an idea that experience of this period is important to decide the tasks of the modernization of pre-school education.
Downloads
Download data is not yet available.
References
Бондар О. В. Становлення та розвиток системи дошкільного виховання в УСРР(1919-1933 рр.) : дис. … канд. іст. наук : 07.00.01 / Олександра Владиславівна Бондар. – Харків, 2009. – 219 с.

Держархів Хмельницької обл., ф. 908, оп. 2, спр. 124, 147 арк.

Держархів Хмельницької обл., ф. 908, оп. 2, спр. 135, 160 арк.

Держархів Хмельницької обл., ф. 908, оп. 3, спр. 218, 204 арк.

Держархів Хмельницької обл., ф. 908, оп. 3, спр. 222, 176 арк.

Держархів Хмельницької обл., ф. 908, оп. 3, спр. 224, 32 арк.

Держархів Хмельницької обл., ф. 908, оп. 3, спр. 225, 31 арк.

Держархів Хмельницької обл., ф. 908, оп. 3, спр. 227, 27 арк.

Держархів Хмельницької обл., ф. 908, оп. 3, спр. 232, 49 арк.

Держархів Хмельницької обл., ф. 908, оп. 3, спр. 899, 41 арк.

Держархів Хмельницької обл., ф. 908, оп. 3, спр. 962, 246 арк.

Положення про об'єднану дошкільну дитячу установу (ясла-садок): Затверджено постановою Ради Міністрів УРСР від 11 липня 1960 р. № 1132 // Радянська школа, 1980. – С. 40–48.

Про заходи по подальшому розвитку дитячих дошкільних закладів, поліпшенню виховання і медичного обслуговування дітей дошкільного вік / Постанова ЦК КПРС і Ради Міністрів СРСР від 21 травня 1959 р., № 558 – К. : Радянська школа, 1980. – С.17–20.

Степанова Т. М. Еволюція змісту дошкільної освіти у другій половині ХХ століття : [моногр.] / Т. М. Степанова. – К. : Слово, 2010. – 184 с.

Улюкаєва І. Г. Історія суспільного дошкільного виховання в Україні : навч. посіб. / І. Г. Улюкаєва. – Бердянськ : Бердян. держ. пед. ун-т, 2007. – 172 с.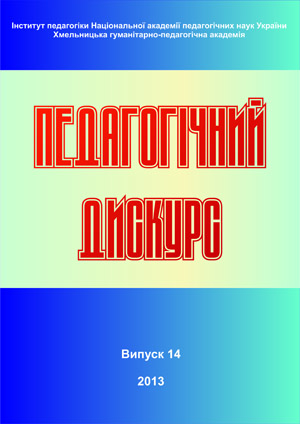 How to Cite
Gritsiuk, T. (2013). Historical and Pedagogical Prerequisites of Development of Preschool Education in Khmelnytskyi Region in 1950-1960-s. Pedagogical Discourse, (14), 134-138. Retrieved from https://ojs.kgpa.km.ua/index.php/peddiscourse/article/view/427
This work is licensed under a Creative Commons Attribution-NonCommercial-ShareAlike 4.0 International License.