The Characteristic of the Legal Competence of the Head of an Educational Institution in the Context of Managerial Competence
Iryna Darmanska

Khmelnytskyi Humanitarian-Pedagogical Academy
Keywords:
head of an educational institution, managerial competence, legal competence
Abstract
The article analyzes the content of legal competence of the head of an educational institution that is an integral component of his managerial competence. The legal competence of the head master is shown through the necessity of possessing of legal information with its reference to the educational and administrative activity. Legal competence of the manager of general educational establishment has to be formed be means of acquiring of the norms of law branches by the future specialist. Due to this the author reveals the content of the basic notions of constitutional, administrative, criminal, employment, family and international law with their binding to the educational sphere, in particular to the functioning of general educational establishment.
Downloads
Download data is not yet available.
References
Дарманський М. М. Соціально-педагогічні основи управління освітою в регіоні / М. М. Дарманський. – Хмельницький : Поділля, 1997. – 384 с.

Конституція України : [прийнята на п'ятій сесії Верховної Ради України 28 черв. 1996 р. № 254к/96-ВР] // Відом. Верхов. Ради України. – 1996. – № 30. – Ст. 141. – зі змінами ; ост. ред. 28 квіт. 2009 р.

Кодекс України про адміністративні порушення від 07 груд. 1984 № 8073-Х // Відом. Верхов. Ради Укр. РСР. – 1984. – № 51 (дод.). – Ст. 1122. – Зі змінами ; ост. ред. 05 листоп. 2009 р.

Кримінальний кодекс України : прийнятий 05 квіт. 2001 р. № 2341-ІІІ // Офіц. вісн. України. – 2001. – № 21. – Ст. 618. – Зі змінами ; ост. ред. 05 листоп. 2009р.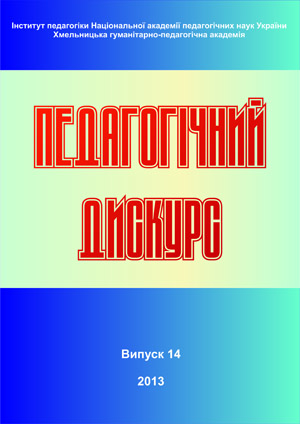 How to Cite
Darmanska, I. (2013). The Characteristic of the Legal Competence of the Head of an Educational Institution in the Context of Managerial Competence. Pedagogical Discourse, (14), 151-155. Retrieved from https://ojs.kgpa.km.ua/index.php/peddiscourse/article/view/430
This work is licensed under a Creative Commons Attribution-NonCommercial-ShareAlike 4.0 International License.