Formation of Creative Abilities of the Future Music Teachers in their Extracurricular Activity
Stepan Saverucha

Khmelnytskyi Humanitarian-Pedagogical Academy
Keywords:
creative personality, creative abilities, music pedagogics, music teacher, higher educational establishment
Abstract
The problems of organization of extracurricular activity of the future music teachers with the aim to form their creative abilities and the role of these processes in formation of the musician, teacher of music have been revealed in the article. The peculiarities of their application in the modern pedagogical scie nce are determined. On material of dissertation researches areexposed the different ways of forming of teaсher-musician. Particular attention is paid to reflection of the conceptual foundations foundations of organizing of this process. Creative approaches to the activity of the clubs of amateur performing arts and their role in formation of creative abilities of students have been highlighned.
Downloads
Download data is not yet available.
References
Гончаренко С. Український педагогічний словник / С. Гончаренко. – К. : Либідь, 1997. – 374с.

Максименко С. Д. Загальна психологія : підруч. / С. Д. Максимненко. – [2-ге вид., перероб. і доп.]. – Вінниця : Нова книга, 2004. – 272 с.

Натощак О. Розуміння-розум-творчість / О. Натощак, І. Гванжала, Н. Ніколаєнко. – К. : Шкільний світ, 2006. – С.21.

Педагогіка вищої школи : навч. посіб. / за ред. З. Н. Курлянд. – К. : Знання, 2007. – 495 c.

Стельмахович М. Г. Позакласне і позашкільне виховання / М. Г. Стельмахович. – Івано-Франківськ, 1996. – 232 с.

Суржанська В. А. Розвиваємо творчі здібності / В. А. Суржанська. – Харків : Основа, 2007. – 33 с.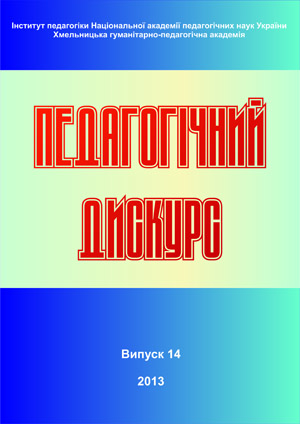 How to Cite
Saverucha, S. (2013). Formation of Creative Abilities of the Future Music Teachers in their Extracurricular Activity. Pedagogical Discourse, (14), 177-181. Retrieved from https://ojs.kgpa.km.ua/index.php/peddiscourse/article/view/436
This work is licensed under a Creative Commons Attribution-NonCommercial-ShareAlike 4.0 International License.