Determination of Professional Competence Level Criteria
Svetlana Ivashnova

School of Regional and International Studies of the Far Eastern Federal University
Keywords:
professional competence, qualifying category, B.Bloom's taxonomy, attestation of pedagogical workers, index, descriptor
Abstract
In the article presents the results of study of different models of professional competence of pedagogical workers, empiric research of indexes and descriptors that are used in the process of attestation of pedagogical workers; the author's system of indexes and descriptors, based on the B.Bloom's taxonomy is offered.
Downloads
Download data is not yet available.
References
Архипова С. П. Професійна компетентність і професіоналізм соціального працівника: сутність і шляхи розвитку / С. П. Архипова // Соціальна робота в Україні: теорія та практика / Європ. ун-т. – К., 2004.– Вип. 2 (7). – С. 15–24.

Бачинська Є.М. Організаційно-методичні засади підготовки вчителів до класного керівництва в системі підвищення кваліфікації : наук.-метод. посіб. / Є. М. Бачинська. – Біла Церква : КОІПОПК, 2005. – 260 с.

Гаврилова М. А. Становление и развитие профессиональной компетентности педагогов-математиков в системе непрерывного педагогического образования : автореф. дисс. на соискание науч. степени д-ра пед. наук : спец. 13.00.08 / М. А. Гаврилова. – М., 2012. – 51 с.

Гребнев И. В. Теоретические основания развития методической компетентности учителя / И. В. Гребнев, О. В. Лебедева // Вестник Нижегородского университета им. Н. Лобачевского. – Нижний Новгород, 2007. – № 4 : Инновации в образовании. – С. 21–25.

Красинская Л. Ф. Формирование психолого-педагогической компетентности преподавателя технического вуза в системе дополнительного профессионального образоваания : автореф. дисс. на соискание науч. степени д-ра пед. наук : спец. 13.00.08 / Л. Ф. Красинская. – М., 2011. – 41 с.

Кузьмина Н. В. Профессионализм личности преподавателя и мастера производственного обучения / Н. В. Кузьмина. – М. : Высшая школа, 1990. – 162 с.

Леонтьев А. А. Язык, речь, речевая деятельность / А. А. Леонтьев. – М. : Красанд, 2010. – 216 с.

Пассов Е. И. Основы коммуникативной методики обучения иноязычному общению / Е. И. Пассов. – М. : Русский язык, 1989. – 237 с.

Пономарьова О. Ю. Підготовка майбутніх педагогів до роботи з дезадаптованими дітьми молодшого шкільного віку : автореф. дис. на здобуття наук. ступеня канд. психол. наук : спец. 19.00.07 / О. Ю. Пономарьова. – К., 2002. – 21 с.

Про затвердження Типового положення про атестацію педагогічних працівників. Наказ Міністерства освіти і науки, молоді та спорту № 930 від 06.10.2010 зі змінами та доповненнями згідно з Наказом Міністерства освіти і науки, молоді та спорту № 1473 від 20.12.2011 [Електронний ресурс]. – Режим доступу : http://zakon2.rada.gov.ua/laws/show/z1255-10.

Anderson L. W. Rethinking Bloom's Taxonomy: Implications for testing and assessment / Anderson L. W. – 1999.

Bloom B. S. Taxonomy of educational objectives: The classification of educational goals: Handbook I, cognitive domain / Bloom B. S. – New York : Longman, 1956.

Callister Paul D. Time to Blossom: An Inquiry into Bloom's Taxonomy as a Hierarchy and Means for Teaching Legal Research Skills / Callister Paul D. // Law library journal  Vol. 102:2 [2010-12]  р.191–219 [Електронний ресурс]. – Режим доступу : вільний. Дата звернення: 14.02.2013 URL: http://www.aallnet.org/main-menu/Publications/llj/LLJ-Archives/Vol-102/publljv102n02/2010-12.pdf

Oschepkova T. Techniques in Teaching-Training Context / T. Oschepkova, M. Prolygina, D. Starkova // Языковое образование в национально-культурном наследии России: исторические традиции, современность, взгляд в будуще : тезисы докладов к конференции, ноябрь 2001г. / сост Г. И. Воронина. – М., 2001.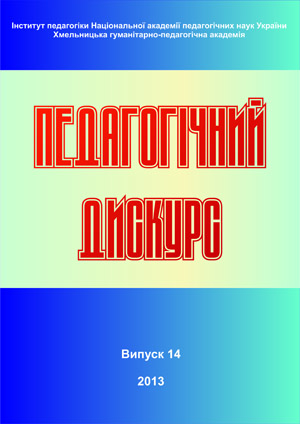 How to Cite
Ivashnova, S. (2013). Determination of Professional Competence Level Criteria. Pedagogical Discourse, (14), 189-195. Retrieved from https://ojs.kgpa.km.ua/index.php/peddiscourse/article/view/439
This work is licensed under a Creative Commons Attribution-NonCommercial-ShareAlike 4.0 International License.