Master-Class as a Modern Form of Self-Study of the Future Engineers-Educators
Ihor Kankovsky

Khmelnytskyi National University
Keywords:
self-study, master-class, structure, technology of implementation, performance criteria, engineer-educator
Abstract
Attention is focused on the fact that the purpose of self-study in preparation for the specialist is to develop such traits as self-reliance, namely, the ability to organize and implement its activities without external guidance and assistance. It is recommended to achieve it using this form of self-study as a master class. A generalized approach to the definition of «Master-Class». Revealed the structure of the master-class and describes the main elements of its technology. Define the role of the student, who acts as the Master, the preparation and conduct of the master-class. The criteria for determining the efficiency of this form of self-study. Examples of the use of the master-class as a form of self-study of the future engineers-educators. Found that the master-class motivates students to the development of training programs, increases their responsibility for their own learning; forms of systems thinking in students on the basis of independent work on individual and group creative assignments in various academic disciplines, etc.
Downloads
Download data is not yet available.
References
Коменский Я. А. Великая дидактика / Я. А. Коменский // Избранные педагогические сочинения. – М. : Учпедгиз, 1955. – 279 с.

Козаков В. А. Самостоятельная работа студентов и её информационно-методическое обеспичение : учеб. пособие / В. А. Козаков. – К. : Выща школа, 1990. – 248 с.

Профессиональные объединения педагогов: методические рекомендации для руководителей образовательных учреждений и учителей / под ред. М. М. Поташника. – М. : Центр социальных и экономических исследований, 1997. – 120 с.

Чернєга О. А. Формування педагогічної майстерності майбутнього інженера-педагога засобами майстер-класу / О. А. Чернєга // Вища школа. Гуманізація навчально-виховного процесу. – 2009. – Вип. XLVII. – С. 92–98.

Кашлев С. С. Технология интерактивного обучения / С. С. Кашлев. – Мн. : Белорусский верасень, 2005. – 196 с. – (Педагогика, обращенная в завтра).

Русских Г. А. Мастер-класс – технология подготовки учителя к творческой профессиональной деятельности / Г. А. Русских // Методист. – 2002. – № 1. – С. 38–40.

Шавровська В. Майстер-клас – ефективна форма навчання педагогів / Валентина Шавровська // Дошкільне виховання. – 2009. – № 6. – С. 5–6.

Ярославцева М. Майстер-клас: особливості використання в системі професійної підготовки майбутніх вихователів дошкільних навчальних закладів / М. Ярославцев // Вища школа. Гуманізація навчально-виховного процесу. – 2010. – Вип. LІІІ, ч. ІІ. – С. 88–93.

Соломенко Л. Д. «Положение о «мастер-классе» как форме профессионального обучения учителей» / Л. Д. Соломенко // Практика административной работы в школе. – 2004. – № 5. – С. 46.

Профессиональные объединения педагогов: методические рекомендации для руководителей образовательных учреждений и учителей / под ред. М. М. Поташника. – М. : Центр социальных и экономических исследований, 1997. – 120 с.

Артюгина Т. Ю. Организация и проведение мастер-классов: вопросы и ответы / Т. Ю. Артюгина [Электронный ресурс]. – Режим доступа : https://docs.google.com /viewer?a=v&q=cache:RSD6Wf9_2wUJ: malodschool.ucoz.ru /ogigina /artjugina_t.doc.

Формы профессионального обучения педагогов: мастер-классы, технологические прийомы / авт.-сост. Т. В. Хуртова. – Волгоград : Учитель, 2008. – 207 с.

Организация и проведение мастер-классов : метод. реком. / сост. А. В. Машуков ; под ред. А. Г. Обоскалова. – Челябинск : Челябинский институт переподготовки и повышения квалификации работников образования, 2007. – 13 с.

Соколова А. Навчальний майстер-клас як метод стимуляції самостійної роботи студентів / А. Соколова // Проблеми і перспективи розвитку освіти : матеріали міжнар. заоч. наук. конф. (м. Перм, квітень 2011 р.). – Перм : Меркурій, 2011. – Т. ІІ. – С. 139–142.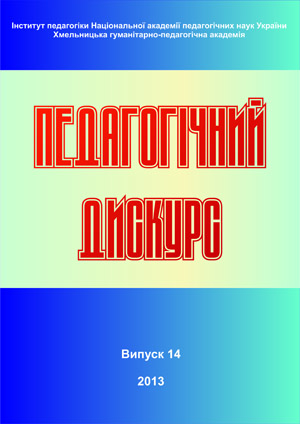 How to Cite
Kankovsky, I. (2013). Master-Class as a Modern Form of Self-Study of the Future Engineers-Educators. Pedagogical Discourse, (14), 211-216. Retrieved from https://ojs.kgpa.km.ua/index.php/peddiscourse/article/view/443
This work is licensed under a Creative Commons Attribution-NonCommercial-ShareAlike 4.0 International License.