Realization of the System Approach in Realiztion of Multicultural Education in General Educational Establishment
Petro Kendzior

Lviv Institute of Management
Keywords:
multicultural education, students, general educational establishment, system approach
Abstract
Multicultural education of students in a secondary school should be realized in various contexts, especially at the level of primary and middle school; it should be integrated into different types of educational activity. Systematic approach to multicultural education, in the framework of which students acquire the skills of socially acceptable behavior, civic responsibility and social partnership, should be realized at all levels of the educational process, and namely: educational courses; integration of multicultural content elements into existing subjects; availability of democratic school climate; properly organized out-of-school work; participation of school students in the activities of local ethnical communities and cultural societies, etc.
Downloads
Download data is not yet available.
References
Гончаренко С. Методологічні засади побудови педагогічної теорії / Семен Гончаренко // Шлях освіти. – 2007. – № 2. – С. 2–10.

Грива О. А. Толерантність в процесі становлення молоді в умовах полікультурного середовища : автореф. дис. на здобуття наук. ступеня докт. філос. наук : спец. 09.00.10 «Філософія освіти» / О. А. Грива. – К., 2008. – 32 с.

Національна доктрина розвитку освіти // Освіта України. – 2002. –
23 квіт. (№ 33). – С. 2–6.

Осипова И. Формирование учебной мотивации школьников / И. Осипова // Воспитание школьников. – 2003. – № 8. – С. 33–36.

Релігійна багатоманітність та міжкультурна освіта : посібник для школи / [під ред. Джона Кіста ; пер. англ. Н. Юхимович, Т. Дитина]. – Львів : ЗУКЦ, 2008. – 160 с.

Солдатова Г. Практическая психология толерантности, или как сделать так, чтобы зазвучали лучшие струны человеческой души? / Г. Солдатова // Век толерантности. – 2003. – № 6. – С. 60–78.

Умови громадянства : зб. статей / [за ред. Барта Ван Стінбергена ; пер. з англ., передм. та прим. О. О. Іваненко ; Український центр духовної культури]. – К. : [б. в.], 2005. – 264 с.

Giordan H. Les minorites en Europe. Droits linguistigues et droits de l'homme / Giordan H. – Paris : Kime, 1992. – 162 p.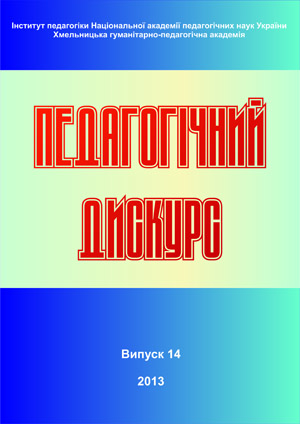 How to Cite
Kendzior, P. (2013). Realization of the System Approach in Realiztion of Multicultural Education in General Educational Establishment. Pedagogical Discourse, (14), 216-221. Retrieved from https://ojs.kgpa.km.ua/index.php/peddiscourse/article/view/444
This work is licensed under a Creative Commons Attribution-NonCommercial-ShareAlike 4.0 International License.