Organization of Bachelor's Independent Work on «Theory and Methods of Forming Elementary Mathematical Ideas»
Anna Kit

Khmelnytskyi Humanitarian-Pedagogical Academy

Iryna Gryndii

Khmelnytskyi Humanitarian-Pedagogical Academy
Keywords:
student's independent work, types and forms of independent work
Abstract
Article highlights problems concerning organization of bachelor's independent work on «Theory and methods of forming elementary mathematical ideas» on the II educational qualifying Bachelor's degree in the process of their professional preparation. Different researcher's approaches disclose the definition of the term independent work of students; article also accents attention on objects, types and forms of student's independent work. Methodical recommendations on organization of student's independent work in the course study are given.
Downloads
Download data is not yet available.
References
Алексюк А. М. Педагогіка вищої освіти України. Історія. Теорія : підруч. / Анатолій Миколайович Алексюк. – К. : Либідь, 1998. – 560 с.

Артемова Л. В. Педагогіка і методика вищої школи : навч.-метод. посіб. для викладачів, аспірантів, студентів магістратури / Любов Вікторівна Артемова. – К. : Кондор, 2008. – 272 с.

Коваленко Є. І. Самостійна робота студентів як засіб набуття досвіду творчої діяльності / Є. І. Коваленко // Педагогіка та методика : наук.-метод. зб. / Ніжинський державний педагогічний університет ім. М. Гоголя. – 2001. – Вип. 4. – 116 с.

Козаков В. О. Самостійна робота студентів як дидактична проблема : наук. вид. / В. О. Козаков. – К. : НМК ВО, 1990. – 62 с.

Малихін О. Мотиваційно-цільовий компонент самостійної навчальної діяльності студентів вищого педагогічного навчального закладу / О. Малихін // Рідна школа. – 2005. – № 8. – С. 28–30.

Нагаєв В. М. Методика викладання у вищій школі : навч. посіб. / Віктор Михайлович Нагаєв. – К. : Центр учбової літератури, 2007. – 232 с.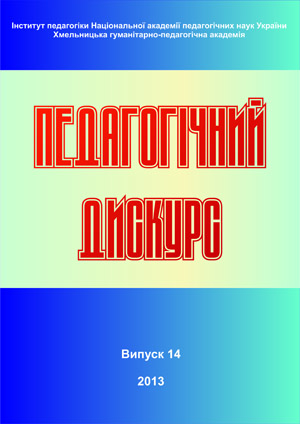 How to Cite
Kit, A., & Gryndii, I. (2013). Organization of Bachelor's Independent Work on «Theory and Methods of Forming Elementary Mathematical Ideas». Pedagogical Discourse, (14), 221-225. Retrieved from https://ojs.kgpa.km.ua/index.php/peddiscourse/article/view/445
This work is licensed under a Creative Commons Attribution-NonCommercial-ShareAlike 4.0 International License.