Linguistic-Stylistic Analysis of German-Language Drama during Education of Future Philologists
Liliya Kozhedub

Institute of Philology of the Kyiv National Taras Shevchenko University
Keywords:
analysis of literary texts, dramatic text, future linguists, foreign-language reading, literary text
Abstract
The article describes the features of the German-speaking linguistic-stylistic analysis of drama in the making of foreign language competence in reading in future philologists. Special attention is paid to the analysis of the linguistic features of the material and means of fine drama. The objective difficulties of the structural and semantic organization of dramatic texts were clarified to overcome the difficulties of the students in the process of deep and thorough understanding of the ideological and aesthetic value of the literary text. By specific examples studied linguistic-stylistic peculiarities of the German-speaking drama. Covered approaches to the study of a literary text to analyze the linguistic-stylistic means German-dramas and overcome the complexities of subjective senior students in foreign language reading. The prospects of improving the quality of training of future linguists in terms of the reading competence formation were determined.
Downloads
Download data is not yet available.
References
Возненко Н. В. Стилістика сонгів у Бертольда Брехта : дис. ... канд. філол. наук : 10.02.04 / Возненко Наталя В'ячеславівна. – Запоріжжя, 2002. – 186 с.

Волкова М. Ю. Особливості лінгвостилістичного аналізу художніх творів / М. Ю. Волкова // Вісник СевНТУ : зб. наук. праць / СевНТУ ; ред. М. С. Колесов. – Севастополь : Вид-во СевНТУ, 2010. – Вип. 102 : Філологія. – С. 6–11.

Горюнова М. Н. Лингвостилистические особенности немецкоязычной драматургии ХХ столетия : дис. … канд. филол. наук : 10.02.04 / Горюнова Марина Николаевна. – К., 1996. – 150 с.

Грибчук І. С. Очуження та мовно-художні засоби його вираження в п'єсах Бертольда Брехта : дис. ... канд. філол. наук : 10.02.05 / Грибчук Іван Семенович. – Львів, 1972. – 220 с.

Нифака Т. П. Обучение эстетико-стилистическому анализу художественных текстов: (старший этап языкового вуза, английский язык) : дис. ... канд. пед. наук : 13.00.02 / Т. П. Нифака. – К., 1992. – 192 с.

Brecht B. Die Dreigroschenoper / Bertolt Brecht. – Leipzig : Verl. Philipp Reclam, 1968 – 2. Aufl. – 128 S.

Curriculum für den sprachpraktischen Deutschunterricht an pädagogischen Fakultäten der Universitäten und pädagogischen Hochschulen / [Verf. N. Borisko]. – К. : Ленвіт. – 2004. – 256 с. – (німецькою мовою).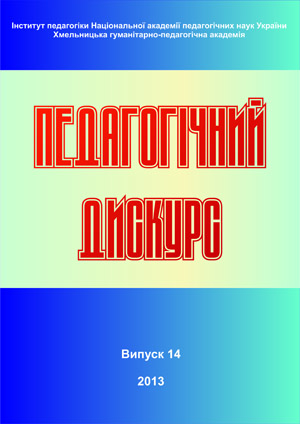 How to Cite
Kozhedub, L. (2013). Linguistic-Stylistic Analysis of German-Language Drama during Education of Future Philologists. Pedagogical Discourse, (14), 230-233. Retrieved from https://ojs.kgpa.km.ua/index.php/peddiscourse/article/view/447
This work is licensed under a Creative Commons Attribution-NonCommercial-ShareAlike 4.0 International License.