Pedagogical Conditions of Professional Interaction of the Social Pedagogue of Educational Institution
Tetiana Ostrianko

Chernihiv National Pedagogical University named after T. Shevchenko
Keywords:
social pedagogue, pedagogical collective, educational institution, condition, professional interaction
Abstract
In article the importance and need of interaction of the social pedagogue with pedagogical collective in the course of socialization of pupils is noted. The author focused attention on definition and justification of pedagogical conditions which would promote ensuring professional interaction of the social pedagogue with secondary school administration, the practical psychologist, teachers, and parents. Offers on studying the practical ways of social pedagogue interaction with the practical psychologist, administration and teachers in educational institution, and also definition of levels of professional interaction of the specialist in the course of realization of social and pedagogical activity were made.
Downloads
Download data is not yet available.
References
Алєксєєнко Т. Ф. Мотивація й цінності групування школярів у малі групи / Т. Ф. Алєксєєнко // Соціальна педагогіка: теорія та практика. – 2010. – № 2. – С. 24–30.

Інструктивно-методичні рекомендації щодо діяльності працівників психологічної служби у 2012/2013 н.р. // Соціальний педагог. – 2012. – № 9. – С. 6–14.

Новий тлумачний словник української мови у трьох томах / [укладачі Василь Яременко, Оксана Сліпушко]. – [вид. 2-ге, виправл.]. – К. : Аконіт, 2003. – Т. 3. – 862 с.

Острянко Т. С. Синергетична модель організаційної діяльності соціального педагога загальноосвітнього навчального закладу / Т. С.Острянко // Вісник Чернігівського національного педагогічного університету ім. Т. Г. Шевченка. – Чернігів : ЧНПУ, 2012. – С. 160–162. (Серія : Педагогічні науки).

Сидоров С. В. Педагогика (управление образовательными системами): Методические материалы для подготовки студентов к семинарским занятиям / С. В. Сидоров. – Шадринск, 2004. – 32 с.

Соціальна педагогіка : підруч. / [за ред. А.Й. Капської]. – К. : Центр навч. л-ри, 2003. – 316 с.

Управління навчальним закладом : навч.-метод. посіб. : у двох частинах / [В. В. Григораш, О. М. Касьянова, О. І. Мармаза та ін.]. – Харків : Веста : Ранок, 2004. – Ч. 2. Ключ до професійного успіху. – 152 с.

Философская энциклопедия : в 5 т. / [под ред. Ф. В. Константинова]. – М. : Сов. Энцикл., 1970. – Т. 5. – 740 с.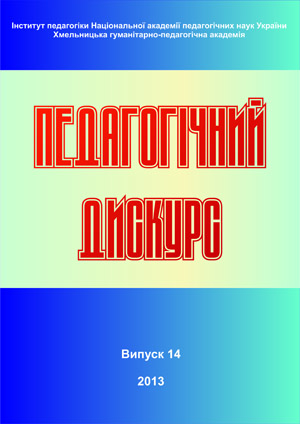 How to Cite
Ostrianko, T. (2013). Pedagogical Conditions of Professional Interaction of the Social Pedagogue of Educational Institution. Pedagogical Discourse, (14), 348-352. Retrieved from https://ojs.kgpa.km.ua/index.php/peddiscourse/article/view/472
This work is licensed under a Creative Commons Attribution-NonCommercial-ShareAlike 4.0 International License.