Foreing Pedagogical Experience as a Factor of Modernization of the Ukraininan Teacher Training: Historical Outlook
Nataliya O'smuk

Sumy State Pedagogical University named after A. S. Makarenko
Keywords:
teacher training, experience of Reformation pedagogics, teacher training modernization, contextual, organizational and methodological innovations of teacher training
Abstract
In the article the application of experience of foreign Reformation pedagogics in the process of national teacher training modernization is characterized. The focus is on the contextual, organizational and methodological foreign innovations that were used by Ukrainian teachers. The role of foreign experience in the professional development of national teachers is stated. The key tasks of educational sphere in retrospective measuring of state documents are revealed. It is noted that general pedagogical preparation of pedagogues provides for mastering of the knowledge in pedology, physiology, anatomy, hygiene, and substantial component of these disciplines were ideas and views of the representatives of reformatory pedagogics – D. Dewey, R. Seidel, G. Kerschensteiner, M. Montessori, P. Natorp, S.Hall and others, interpreted by Soviet pedagogues. It is proved that innovations of reformatory pedagogics are the factors of modernization of the system of professional preparation of teachers.
Downloads
Download data is not yet available.
References
Зотин М. Институты народного образования и педагогические курсы как центры переподготовки учительства / М. Зотин // Путь просвещения. – 1924. – № 7. – С. 1–8.

Кліцаков І. О. Педагогічні кадри України (1917–1937). Горлівський державний педагогічний інститут ім. Крупської / І. О. Кліцаков. – Донецьк : Юго-Восток, 1997. – 309 с.

Кодекс законов о народном просвещении в УССР. – Харьков : Издание Народного комиссариата просвещения УСРР, 1922. – 76 с.

Кудоковцев І. Робота Державного Науково-Методичного Комітету за 1926–1927 академічний рік / І. Кудоковцев // Шлях освіти. – 1927. – № 11. – С. 138–144.

Майборода В. К. Вища педагогічна освіта в Україні. Історія, досвід, уроки (1917–1985 рр.) / В. К. Майборода. – К. : Либідь, 1992. – 196 с.

Матеріали Держнаукметодкому // Шлях освіти. – 1926. – № 12. – С. 158–161.

Порадник до перепідготовки робітників освіти / за ред. Є. А. Равича Щерби – Х. : Червоний шлях. – 1924.

Сігаєва Л. Є. Становлення і розвиток системи підвищення кваліфікації вчителів в Україні 20–30-ті рр. XX ст. / за ред. Н. Г Ничкало. – К. : Липень, 2000. – 236 с.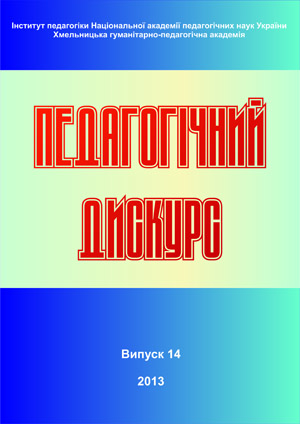 How to Cite
O'smuk, N. (2013). Foreing Pedagogical Experience as a Factor of Modernization of the Ukraininan Teacher Training: Historical Outlook. Pedagogical Discourse, (14), 352-356. Retrieved from https://ojs.kgpa.km.ua/index.php/peddiscourse/article/view/473
This work is licensed under a Creative Commons Attribution-NonCommercial-ShareAlike 4.0 International License.