Lingvistic and Didactic Approaches to Creation of Textbooks for Ukrainian Education in Diaspora
Svitlana Romaniuk

Chernivtsi Yurii Fedkovych National University
Abstract
The article deals with the creation of the basic principles of linguodidactic textbooks for teaching Ukrainian language in the system of native language schooling system of Western diaspora – primers and readers published. We analyze the procedure of learning letters and sounds, concluding texts primers based differentiation – for rural and urban students and in different seasons. Special attention is paid to the textbook which, in addition to literary texts should contain objectives of linguodidactic content aimed at mastering grammatical concepts and vocabulary enrichment system of language learners.
Downloads
Download data is not yet available.
References
Волиняк П. Слово до вчителів і батьків / ПетроВолиняк. – Запоріжжя. Читанка для п'ятої кляси та позашкільного читання. – Торонто, 1968. – С.103.

Волиняк П. Початок шкільного року і асимілятори / П. Волиняк // Нові дні. – 1966. – Ч. 198–199. – С. 12–14.

Вівчарук А. Наукові помічні середники в 1 клясі / А. Вівчарук, А. Карпович // Життя і школа. – 1982. – № 1. – С. 38–39.

Дейко М. Передмова / Марія Дейко // Євшан-зілля. Читанка для четвертого року навчання. – Австралія – Англія, 1970. – С. 5.

Педагог. Педагогічні вимоги до наших читанок // Життя і школа. – 1991. – Ч. 1. – С. 31–33.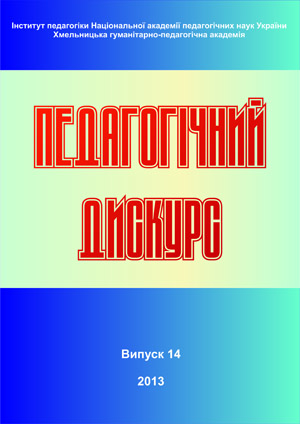 How to Cite
Romaniuk, S. (2013). Lingvistic and Didactic Approaches to Creation of Textbooks for Ukrainian Education in Diaspora. Pedagogical Discourse, (14), 387-392. Retrieved from https://ojs.kgpa.km.ua/index.php/peddiscourse/article/view/507
This work is licensed under a Creative Commons Attribution-NonCommercial-ShareAlike 4.0 International License.