Interaction of Methods of Calligraphic Writing Teaching in the Process of the Prospective Teacher's Practical Training for Work with First-Formers
Halyna Tkachuk

Khmelnytskyi Humanitarian-Pedagogical Academy

Halyna Dorosh

Khmelnytskyi Humanitarian-Pedagogical Academy
Keywords:
calligraphy, genetic, linear, rhythm methods of teaching writing, exercise book on calligraphic writing
Abstract
Practical training of the students institutions of higher education for teaching first-formers writing is considered in the article, particularly the optimal combination of such well known methods as: copying, lineal, rhythm, genetic, analitic-synthetic, because such usage of methods allows future teachers to master their style to prepare practically to the work on making primary pupils' handwriting calligraphic and quick; also the visual aids on calligraphy for students of pedagogical higher educational establishments are analyzed.
Downloads
Download data is not yet available.
References
Каліграфія : посіб. для студ. факультету початкового навчання / укл. Ткачук Г. О. – Хмельницький : Вид-во ХГПІ, 2003. – 44 с.

Кирей І. Ф. Методика викладання каліграфії в початковій школі : навч. посіб. / І. Ф. Кирей, В. А. Трунова. – К. : Вища школа, 1994. – 143 с.

Чабайовська М. І. Єдині зразки каліграфічного письма букв українського алфавіту та цифр : навч.-метод. посіб. / М. І. Чабайовська. – Тернопіль : Мальва – ОСО, 2009. – 116 с.

Чабайовська М. І. Зошит з каліграфії в II частинах / М. І. Чабайовська. – Тернопіль : Мальва – ОСО, 2009. – 56 с.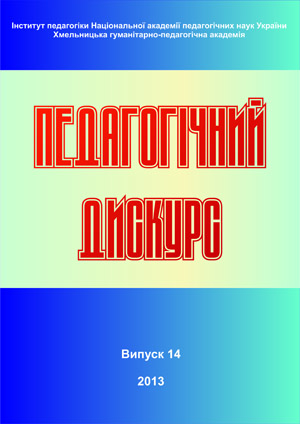 How to Cite
Tkachuk, H., & Dorosh, H. (2013). Interaction of Methods of Calligraphic Writing Teaching in the Process of the Prospective Teacher's Practical Training for Work with First-Formers. Pedagogical Discourse, (14), 420-424. Retrieved from https://ojs.kgpa.km.ua/index.php/peddiscourse/article/view/514
This work is licensed under a Creative Commons Attribution-NonCommercial-ShareAlike 4.0 International License.