Situational Testing Tasks as a Means of Diagnosis of Subject Competences of the Future Teachers of Technologies of Specialized School (by the Example of the Subject «Fundamentals of Sewing Production»)
Viktoriya Khrenova

Uman Pavlo Tychyna State Pedagogical University
Keywords:
competence approach, learning outcomes, subject matter expertise, evaluation of educational achievements, tests, situational test tasks
Abstract
The article deals with the creation of situational tests as a means of diagnosing the level of formation of subject competencies students-future teachers technology that will teach high school students the basics of sewing business. It analyses the essence of the concepts of «test», «testing». Based on the analysis of scientific publications in the studied subjects found type tests that can be used as a tool for diagnosing competencies of future teachers technology specialized schools. Competence-oriented situational test tasks (by the example of the subject «Fundamentals of Sewing Production») are developed and presented.
Downloads
Download data is not yet available.
References
Полторацька В. В. Контроль і оцінювання навчальних досягнень студентів в умовах модульно-рейтингової системи навчання [Електронний ресурс] / В. В. Полторацька, О. В. Каданер. – Режим доступу : http://www.nbuv.gov.ua/portal/Soc_Gum/ppmb/texts/2009-03/09pvvrsl.pdf.

Гуцало Е. У. Педагогічне тестування в системі контролю і оцінки якості навчання студентів (на базі дисциплін психолого-педагогічного циклу педагогічного університету) / Е. У. Гуцало. – Кіровоград : РВВ КДПУ ім. В. Винниченка, 2011.

Чорна Н. В. Оцінювання навчальних досягнень учнів методом тестування в педагогіці США : дис. ... канд. пед. наук : 13.00.01 / Н. В. Чорна. – Вінниця, 2005.

Самойленко П. В. Ситуаційні тестові завдання як засіб діагностики професійно-педагогічних компетенцій студентів-магістрантів педагогічного університету / Самойленко П. В., Білоус О. В. // Вісник Чернігівського державного педагогічного університету ім. Т. Г. Шевченка. Серія: педагогічні науки : зб. наук. праць. – Чернігів : ЧОПУ ім. Т. Г. Шевченка, 2009. – Вип. 72, № 72. – С. 93–99.

Про затвердження Національної рамки кваліфікацій [Електронний ресурс] / Постанова Кабінету Міністрів України від 23 листопада 2011 року № 1341 / Офіційний сайт Верховної Ради України. – Режим доступу : http://zakon2.rada.gov.ua/laws/show/1341-2011-%D0%BF.

Бараболя М. М. Особливості професійних компетенцій вчителя математики у плануванні самоосвіти / М. М. Бараболя // Дидактика математики : проблеми і дослідження : міжнар. зб. наук. робіт. Вип. 36 / Донецький нац. ун-т, Ін-т педагогіки НАПН України, Нац. пед. ун-т ім. М. П. Драгоманова ; редкол. О. І. Скафа [та ін.]. – Донецьк : [б. в.], 2011. – С. 19–23.

Пашкевич А.В. Система оценивания учебных достижений студентов как условие формирования профессионального самоопределения [Електронний ресурс] / А. В. Пашкевич. – Режим доступу : http://www.emissia.org/offline/2009/1300.htm.

Головань М. Компетенція і компетентність: досвід теорії, теорія досвіду / М. Головань // Вища освіта України. – 2008. – № 3. – С. 23–31.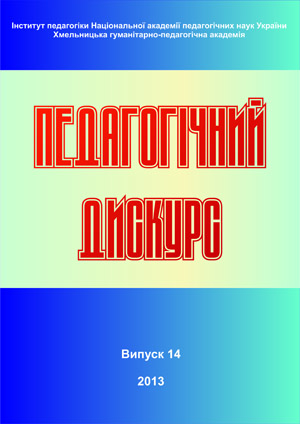 How to Cite
Khrenova, V. (2013). Situational Testing Tasks as a Means of Diagnosis of Subject Competences of the Future Teachers of Technologies of Specialized School (by the Example of the Subject «Fundamentals of Sewing Production»). Pedagogical Discourse, (14), 440-447. Retrieved from https://ojs.kgpa.km.ua/index.php/peddiscourse/article/view/519
This work is licensed under a Creative Commons Attribution-NonCommercial-ShareAlike 4.0 International License.