Specific Features of Forming Foreign Language Competence in Reading as a Method Of Students' Independent Work
Larysa Shaposhnikova

Khmelnytskyi Humanitarian-Pedagogical Academy
Keywords:
foreign language competence, reading, competence approach, independent work, reference, informative reading
Abstract
The article analyzes the problem of forming foreign language competence in reading in the context of organizing students' effective independent work in the process of foreign language study. The motive for reading as a communicative activity is intercourse, and its goal is to provide the necessary information; thus, the work with the text may have different goals: sometimes one just needs to identify what the text is, in other cases it is important to understand the basic or new information, the author's intention, the implication. Properly formed foreign language competence in reading helps students to work with textbooks and other educational books, contributes to the expansion of the students' scientific knowledge and to the skills formation of independent cognitive activity. Such method is used to understand and strengthen scientific information already known by the students, as well as to gain knowledge independently without the help of the teacher. The properly formed skills of foreign language competence in reading also allow students to use different scientific works in foreign language not specified in educational plans, as well as to expand and deepen scientific knowledge on one's own.
Downloads
Download data is not yet available.
References
Бігич О. Б. Методика формування іншомовної компетентності в аудіюванні / О. Б. Бігич // Іноземні мови. – 2012. – № 1. – С. 19–30.

Борецька Г. Е. Методика формування іншомовної компетентності у техніці читання / Г. Е. Борецька // Іноземні мови. – 2012. – № 1. – С. 3–8.

Гальскова Н. Д. Теория обучения иностранным языкам. Лингводидактика и методика : учеб. пособие для студ. лингв, ун-тов и фак. ин. яз. высш. учеб. заведений / Н. Д. Гальскова, Н. И. Гез. – [3-е изд. стер.]. – М. : Академия, 2006. – 336 с.

Клычникова З. И. Психологические особенности обучения чтению на иностранном языке / З. И. Клычникова. – М. : Просвещение, 1983. – 197 с.

Миролюбов А. А. Майкл Уэст и его методика обучения чтению / А. А. Миролюбов // Иностранные языки в школе. – 2003. – № 2. – С. 46–47.

Тамбовкина Т. Ю. Самообучение иностранным языкам в языковом вузе: концепция учебного курса / Т. Ю. Тамбовкина // Иностранные языки в школе. – 2007. – № 8. – С. 77–84.

Черниш В. В. Навчання англомовного читання та аудіювання із застосуванням аудіокнижок художніх творів (середня загальноосвітня школа з поглибленим вивченням іноземної мови) : автореф. дис. на здобуття наук. ступеня канд. пед. наук : спец. 13.00.02 «Теорія і методика навчання : германські мови» / В. В. Черниш. – К., 2001. – 21 с.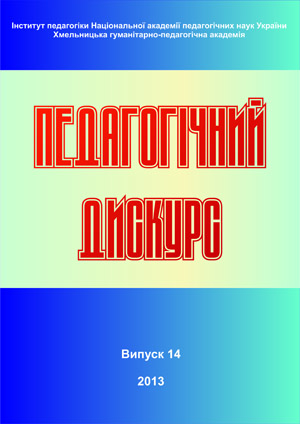 How to Cite
Shaposhnikova, L. (2013). Specific Features of Forming Foreign Language Competence in Reading as a Method Of Students' Independent Work. Pedagogical Discourse, (14), 457-461. Retrieved from https://ojs.kgpa.km.ua/index.php/peddiscourse/article/view/522
This work is licensed under a Creative Commons Attribution-NonCommercial-ShareAlike 4.0 International License.