Professional Orientation of Teaching Ethnology in the System of Ukrainian Philologists Preparation
Olesya Bartashuk

Khmelnytskyi Humanitarian-Pedagogical Academy
Keywords:
ethnology, folk culture, rites, traditions, national character, inter-discipline connections, teachers of Ukrainian and literature
Abstract
Peculiarities of teaching social-humanitarian discipline "ethnology" in the aspect of professional orientation of Ukrainian philologists preparation are analysed in the article; attention is paid to inter-discipline connections of ethnology and Ukrainian literature.
Downloads
Download data is not yet available.
References
Українська етнологія : навч. посіб. / за ред. В. Борисенко. – К. : Либідь, 2007. – 400 с.

Барташук О. Ю. Етнологія : Робоча програма для студентів ІІ ОКР «бакалавр» зі спеціальності «вчитель української мови та літератури» факультету початкової освіти та філології ХГПА / О. Ю. Барташук. – Хмельницький, 2011. – 38 с.

Стельмахович М. Народна педагогіка / Мирослав Стельмахович. – К. : Рад. школа, 1985. – 312 с.

Струманський В. Педагогіка народно-побутового життя української людності : посіб. для учителів українознавства / Василь Струманський // Рідна школа. – 1996. – №9. – С. 31–50.

Струманський В. Структурний зміст виховного середовища української етнопедагогіки / Василь Струманський // Рідна школа. – 2000. – №4. – С. 13–15.

Лук׳янченко О.Г. Професійна спрямованість викладання «етнографії» в мистецькому виші [Електронний ресурс]. – Режим доступу : http://www.nbuv.gov.ua/portal/soc_gum/psmkp/2010_12/Lukjanchenko.html – Назва з екрана.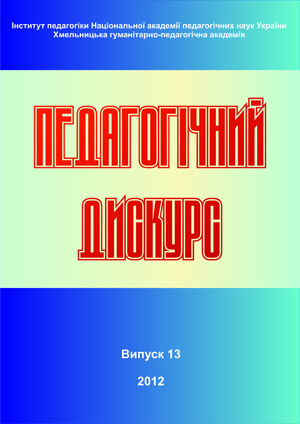 How to Cite
Bartashuk, O. (2012). Professional Orientation of Teaching Ethnology in the System of Ukrainian Philologists Preparation. Pedagogical Discourse, (13), 26-29. Retrieved from https://ojs.kgpa.km.ua/index.php/peddiscourse/article/view/534
This work is licensed under a Creative Commons Attribution-NonCommercial-ShareAlike 4.0 International License.