Polycultural Resource of Professional Training of Future Social Teachers
Olha Gurenko

Berdyansk State Pedagogical University
Keywords:
future social teacher, polycultural education, polycultural society
Abstract
The essence of polycultural education of future social teachers are revealed in the article. On the basis of the analysis of educational programs of the direction of preparation «Social pedagogics», general and work programs the topics of educational disciplines are defined, problems of polycultural and training of future social teachers to activity in polycultural society are considered. The polycultural resource of disciplines of a variation part of the educational plan are shown.
Downloads
Download data is not yet available.
References
Багатокультурність і освіта. Перспективи запровадження засад полі культурності в системі середньої освіти України. Аналітичний огляд та рекомендації / за ред. О. Гриценка. – К. : УЦКД, 2001. – 96 с.

Белогуров А. Ю. Фактор поликультурности в контексте этнонациональной стратегии развития российского образования / А. Ю. Белогуров // Проблемы поликультурного образования: [международный сборник научных статей]. – Махачкала : ДГУ, 2001. – С. 43–51.

Болгаріна В. Культура і полікультурнаосвіта / В. Болгаріна, І. Лощенова // Шлях освіти. – 2002. – № 1. – С. 2–6.

Голік Л. О. Полікультурна освіта в Україні / Л. О. Голік, Т. В. Клинченко, М. Ю. Красовицький, Г. І. Левченко // Завуч. – 1999. – № 29/35 (жовтень). – С. 3–4.

Дмитриев Г. Д. Многокультурность как дидактический принцип / Г. Д. Дмитриев// Педагогика. – 2000. – № 10. – С. 3–12.

International Dictionary of Education. Vol. 7. – Oxford, 1994. – Р. 3963.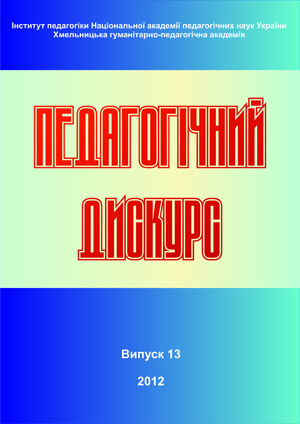 How to Cite
Gurenko, O. (2012). Polycultural Resource of Professional Training of Future Social Teachers. Pedagogical Discourse, (13), 64-68. Retrieved from https://ojs.kgpa.km.ua/index.php/peddiscourse/article/view/543
This work is licensed under a Creative Commons Attribution-NonCommercial-ShareAlike 4.0 International License.