Risks and Dangers of the Internet: to the Problem of Informational Security for Children
Larysa Danyl'chuk

Eastern European National University named after Lesia Ukrainka
Keywords:
the Internet, worldwide network, information security, cyberbulling, cybergrooming
Abstract
The article deals with the general characteristics of the Internet. Key risks and dangers that exist in the network are identified. Advices  and rules for Internet security and Internet ethics for children are marked out.
Downloads
Download data is not yet available.
References
Безпека дітей в Інтернеті Портал для дітей, батьків, учителів / [Електронний ресурс]. – Режим доступу : http://www.onlandia.org.ua/Social].

Булгаков В. Б. Золотой век бесплатного «Интернета» / В. Б. Булгаков // Комп&ньоН. – 1999. – №11 (111) 15 марта – 19 марта.

Интернет [Электронный ресурс] / С. Википедия. – Режим доступа : http://ru.wikipedia.org/ – 2.11.2011 г. – Загл. с экрана.

Національна Бібліотека України для дітей. Правила Інтернет-безпеки та Інтернет-етики для дітей та підлітків / [Електронний ресурс]. – Режим доступу : http://www.chl.kiev.ua/default.

Новые информационные технологии. – М. : Дрофа, 1999. – С. 48–67.

Communication from the Commission to the European Parliament, the Council and the Committee of the Regions of 22 May 2007 «Towards a general policy on the fight against cyber crime». – Brussels, 22.5.2007. COM(2007) 267 final.

Safer Internet Programme: Empowering and Protecting Children Online / [Електронний ресурс]. – Режим доступу : http://ec.europa.eu/information_society/activities/sip/index_en.htm.

[Электронный ресурс]. – Режим доступа : http://www.vachss.com/guest_dispatches/grooming.html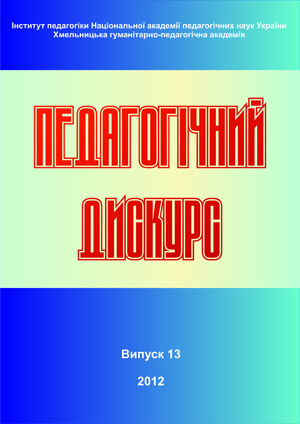 How to Cite
Danyl'chuk, L. (2012). Risks and Dangers of the Internet: to the Problem of Informational Security for Children. Pedagogical Discourse, (13), 68-71. Retrieved from https://ojs.kgpa.km.ua/index.php/peddiscourse/article/view/544
This work is licensed under a Creative Commons Attribution-NonCommercial-ShareAlike 4.0 International License.