The Use of Facilities of Positive Cross-Cultural Psychotherapy as Interactive Technologies of Teaching in Preparation of Specialists of Preschool Education
Oksana Dvizhona

Chernivtsi Yurii Fedkovych National University
Keywords:
training, shiring, positive psychotherapy, art-therapy, psychodrama, interactive technologies of teaching, cross-cultural psychotherapy
Abstract
The author of the article offers the technique of combination of different psychotherapy directions, positive cross-cultural psychotherapy, art-therapy, and psychodrama for conducting practical lessons on practical work in psychology and pedagogics in preparation of specialists of preschool education.
Downloads
Download data is not yet available.
References
Інтерактивні технології навчання: теорія, практика, досвід : метод. посіб. / уклад. : О. Пометун, Л. Пироженко. – К. : А.Н.Н., 2002. – 136 с.

Кирилов И. О. Введение в позитивную психотерапію / [Електронний ресурс]. – Режим доступу : http://www.positum.net/file/PPTIntro.pdf. – Назва з екрану.

Паянок В. О. Інтерактивне навчання як інноваційний підхід у навчальному процесі / В. О. Паянок // Сучасні інформаційні технології та інноваційні методики навчання в підготовці фахівців : методологія, теорія, досвід, проблеми : зб. наук. пр. – Вип. 5 / редкол. : І. А. Зязюн (голова) та ін. – Київ-Вінниця : ДОВ Вінниця, 2004. – С. 209–215.

Пєхота О. М. Освітні технології / О. М. Пєхота. – К., 2001. – 255 с.

Як стати майстерним педагогом : навч.-метод. посіб. / [Ковальчук В. І., Сергеєва Л. М. та ін.] ; за заг. ред. Л. І. Даниленко. – К. : ТОВ «Етіс плюс», 2007. – 184 с.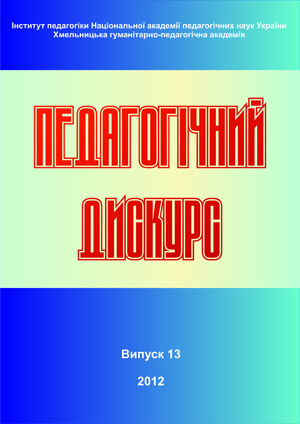 How to Cite
Dvizhona, O. (2012). The Use of Facilities of Positive Cross-Cultural Psychotherapy as Interactive Technologies of Teaching in Preparation of Specialists of Preschool Education. Pedagogical Discourse, (13), 72-76. Retrieved from https://ojs.kgpa.km.ua/index.php/peddiscourse/article/view/545
This work is licensed under a Creative Commons Attribution-NonCommercial-ShareAlike 4.0 International License.