Professional Training of the Future Teachers to the Use of Popular Folk Mobile Games in Ethno-Educatiohal Space of Primary School
Roman Dmytriv

Vasyl Stefanyk Precarpathian National University
Keywords:
popular mobile games, ethnic education, health, school students
Abstract
The article describes the educational potential of games and fun and their possible use in ethnoeducatiohal space of general school. It is found out that mobile games are beneficial for health as they develop and strengthen the muscles, bring physical qualities, promote moral education and positive impact on the mental development of children.
Downloads
Download data is not yet available.
References
Боберський І. Забави і ігри рухові / І. Боберський. – Львів, 1904. – С. 31.

Вацеба О. Нариси з історії спортивного руху в Західній Україні / О. Вацеба. – Івано-Франківськ : Лілея-НВ, 1997. – 232 с.

Ганна Презлята. Народні рухливі ігри та забави / Ганна Презлята. – Івано-Франківськ : ОІППО, 2007. – 202 с.

Етнопедагогічні засади українського дошкілля: навчально-методичний посібник / за ред. проф. Н. Лисенко. – Івано-Франківськ : Видавництво «Плай» ЦІТ Прикарпатського національного університету імені Василя Стефаника, 2008. – 541 с.

Етновиховний простір сучасного загальноосвітнього навчального закладу: теорія і практика : [моногр.] / за ред. проф. Н. Лисенко. – Київ-Івано-Франківськ, 2012. – 374 с.

Кудикіна Н. В. Українські народні рухливі ігри як засіб виховання молодших школярів / Надія Василівна Кудикіна // Рідні джерела. – 2002. – № 4. – С. 28–31.

Рухливі ігри для учнів: 5-9 класи / упоряд. А. Фломбойм. – К. : Шкільний світ, 2011. – 112 с.

Цьось А. В. Українські народні ігри та забави: навч. посібник / А. В. Цьось. – Луцьк: Надстир'я, 1994. – 96 с.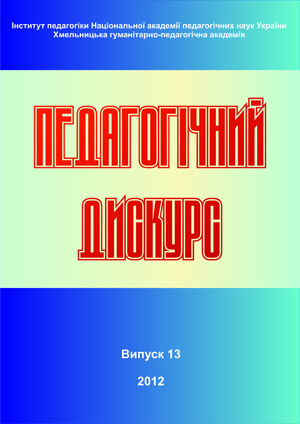 How to Cite
Dmytriv, R. (2012). Professional Training of the Future Teachers to the Use of Popular Folk Mobile Games in Ethno-Educatiohal Space of Primary School. Pedagogical Discourse, (13), 80-83. Retrieved from https://ojs.kgpa.km.ua/index.php/peddiscourse/article/view/547
This work is licensed under a Creative Commons Attribution-NonCommercial-ShareAlike 4.0 International License.