Preparation of the Future Teachers of Kindergartento the Forming of Moral Base of Pupil's Personality
Olena Dobosh

Mukachevo State University
Keywords:
personality, teacher of kindergarten, ethics, ethical culture, spirituality
Abstract
The methodical approaches to professional preparation of the future teachers of Ukrainian kindergartens are analyzed in the article. The professional forming of children's ethical skills in the period of sensitive developing of their personality is defined.
Downloads
Download data is not yet available.
References
Ахутин А. Античная культура: Школы диалога культур / Ахутин А., Библер В., Курганов С. – М., 1995.

Голюннай В. В. Школа та освіта Закарпаття / Голюннай В. В., Росул В. В., Талапканич М. І. – Ужгород, 1997.

Сагарда В. В. Навчання і виховання учнів національних меншин у контексті регіональних особливостей: історія, реалії, проблеми, перспективи / В. В. Сагарда // Науковий вісник УЖНУ. – Серія: Педагогіка. Соціальна робота. – Ужгород, 1998. – Вип. 1.

Талапканич М. І. Осередок духовного життя – з думкою про вчителя / Талапканич М. І., Хименець В. В., Зимомря М. І. – Ужгород, 1996.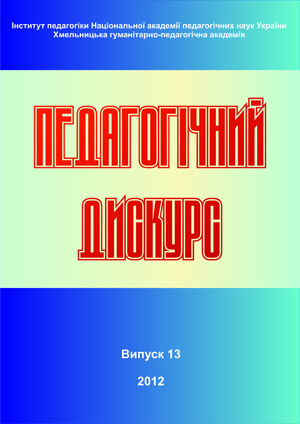 How to Cite
Dobosh, O. (2012). Preparation of the Future Teachers of Kindergartento the Forming of Moral Base of Pupil's Personality. Pedagogical Discourse, (13), 84-86. Retrieved from https://ojs.kgpa.km.ua/index.php/peddiscourse/article/view/548
This work is licensed under a Creative Commons Attribution-NonCommercial-ShareAlike 4.0 International License.