Educational Activities of Preschool Educational Institutions of New Type: Self-Realization of the Child
Olha Domanova

Mariupol State University
Keywords:
educational activities, self- realization of a personality, preschool educational institutions of new type
Abstract
The article analyzes the experience of educational activities of private preschool educational institutions of new type in Mariupol. Peculiarities of content and form in the organization of each institution with the primary purpose to provide the conditions for children's self- realization are studied.
Downloads
Download data is not yet available.
References
Закон України «Про дошкільну освіту» // Збірник законодавчих і нормативних актів про дошкільну освіту. – Запоріжжя : ТОВ «ЛІПС. Лтд.», 2003. – 246 с. – С. 8–9.

Коментар до Базового компонента дошкільної освіти в Україні : наук.-метод. посіб. – К. : Ред. журналу «Дошкільне виховання», 2003.

Степанова Т. М. Еволюція змісту дошкільної освіти у другій половині ХХ століття : [моногр.] / Т. М. Степанова. – К. : Видавничий Дім «Слово», 2010. – 184 с.

Доманова О. О. Нові форми дошкільної освіти / О. О. Доманова // Матеріали ХІІ підсумкової науково-практичної конференції викладачів МДГУ : зб. наук. праць / за заг. ред. К. В. Балабанова. – Маріуполь : МДГУ, 2010. – 370 с. – С. 201–203.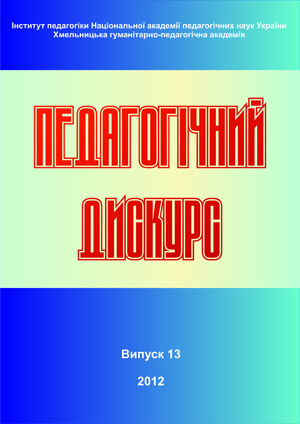 How to Cite
Domanova, O. (2012). Educational Activities of Preschool Educational Institutions of New Type: Self-Realization of the Child. Pedagogical Discourse, (13), 92-95. Retrieved from https://ojs.kgpa.km.ua/index.php/peddiscourse/article/view/550
This work is licensed under a Creative Commons Attribution-NonCommercial-ShareAlike 4.0 International License.