Pedagogical Conditions of Forming Professional Subject of the Future Primary School Teachers: Experimental Grounding
Yuliya Zhurat

Chernivtsi Yurii Fedkovych National University
Keywords:
educational subjectivity, teaching subject, subject qualities of future teachers
Abstract
Experimental study of pedagogical conditions of formation of professional subjectivity of students – future primary school teachers. The article is devoted to the experimental study of subjectivity as an integral quality of primary school teachers, to the xperimental verification of pedagogical conditions of its formation in educational activities in the process of vocational training.
Downloads
Download data is not yet available.
References
Бондаренко Т. А. Педагогические условия формирования рефлексивной культуры у студентов : дисс... канд. пед. Наук : 13.00.01 «Общая педагогика» / Татьяна Алексеевна Бондаренко. – Челябинск, 1999. – 191с.

Кущов В. Г. Суб'єктність як провідна якість фахівця / В. Г. Кущов // Науковий вісник Чернівецького університету. – Серія : Педагогіка та психологія : зб. наук. праць. – Чернівці : Рута, 2007. – Вип. – С. 69-73.

Максименко С. Д. Генезис существования личности : [моногр.] / Сергей Дмитриевич Максименко. – К. : ООО «КММ», 2006. – 240 с.

Поваренков Ю. П. Профессиональное становление личности : дисс... д-ра психол. наук: 13.00.01 «Общая педагогика, история педагогики и образования» ; 19.00.07 «Педагогическяа психология» / Юрий Павлович Поваренков. – Ярославль, 1999. – 359 с.

Ягупов В. В. Студент как субъект учебной деятельности / Василь Васильович Ягупов, Валентина Іванівна Свистун // Нові технології навчання : зб. наук. праць. – Київ – Вінниця, 2009. – Спеціальний випуск №58: Духовно-моральне виховання і професіоналізм особистості в сучасних умовах. – Ч. 1. – С. 32–39.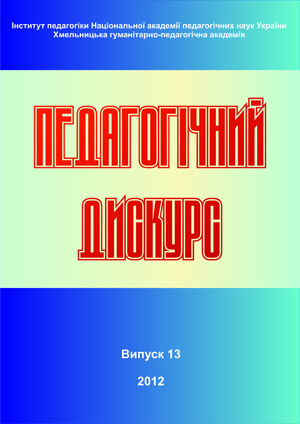 How to Cite
Zhurat, Y. (2012). Pedagogical Conditions of Forming Professional Subject of the Future Primary School Teachers: Experimental Grounding. Pedagogical Discourse, (13), 109-115. Retrieved from https://ojs.kgpa.km.ua/index.php/peddiscourse/article/view/553
This work is licensed under a Creative Commons Attribution-NonCommercial-ShareAlike 4.0 International License.