Forming of Conception of Out-Of-School Education of Personality in the Conditions of Activity of Sofiia Rusova in Ministry of Education during the Period of Directory
Inna Dіakov

Khmelnytskyi, Khmelnytskyi Regional Institute of Postgraduate Education
Abstract
The author conducts the analysis the pedagogical heritage of Sofiia Fedorivna Rusova in the article. The activity in the field of out-of-school education was studied, which the pedagogue began in August 1918, during her work in the Ministry of education, heading the departments of pre-school and school education. The brief description of S. Rusova's contribution into the development of out-of-school institutions, and also the main regulations of her concept of out-of-school education have been summarized. Theoretical and practical experience of S. Rusova, which was embodied in the construction of such system of education that would provide training and education for both children and adults, has been studied. The program, which she made with her supporters, has been offered. It included: choice of methods and techniques of out-of-school education, organization of librarianship, psychology of the national theatre, practice of theatrical performances, music business, choirs, of out-of-school education of schoolchildren, history of Zemstvo institutions. «Prosvita» as the best form for spreading education among adults has been characterized. The Ministry organized new and revived the old «Prosvitas», sufficiently financed them, but the result was insufficient due to the lack of educated managers and a shortage of books for popular reading. The questions of establishing publishing business has been analyzed, which included: creation of editorial and publishing committees, requirements for books, organization of «book depositories» and also the questioning to study the interests for books has been conducted. The ways of realization in providing methodological guidance to teachers have been revealed, which was manifested in creation of special two month teacher's courses. But these courses could not provide proper training, because they were limited to theoretical teaching, without practical work. That is why the Department of out-of-school education decided that in order to get the best training, separate Institute with one year course of preparation and proper professional curriculum is needed. The role of Sofiia Rusova in organization of training and upbringing, as well as her contribution to the development of out-of-school education for children and adults has been grounded. On these bases the author offers her unique concept of out-of-school education that is relevant and up to date.
Key words: Sofia Rusova, enlighter, out-of-school education, conception of out-of-school education of personality, «Prosvita», library studying, excursion business, publishing activity.
Downloads
Download data is not yet available.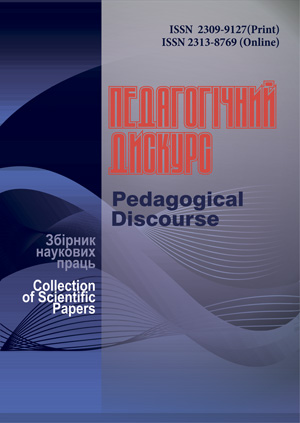 How to Cite
DіakovI. (2016). Forming of Conception of Out-Of-School Education of Personality in the Conditions of Activity of Sofiia Rusova in Ministry of Education during the Period of Directory. Pedagogical Discourse, (20), 62-67. Retrieved from https://ojs.kgpa.km.ua/index.php/peddiscourse/article/view/58