Childcare in Polish Summer Camps
Orеsta Karpenko

Drohobych Ivan Franko State Pedagogical University
Abstract
The article provides a historical-pedagogical analysis of childcare in summer camps as one of most widespread institutions of extracurricular upbringing in Poland. Documents and facts have been introduced giving an integral view on S. Markiewicz's contribution to foundation of the Society of summer camps, arrangement of summer vacations for Warsaw orphans and children from poor families. The author offers research results of leading scholars on the above mentioned problem. Educational activities in Polish summer camps in the XX - early XXI centuries have been outlined. The content and methodological basics of educational activities of various camps have been summed up. It's necessary that camps provide for individual demands and interests of children, enable them to reach beyond the limits of ordinariness in life, culture, nature. Requirements for pedagogical staff, teachers with regard to their manners and character have been presented. Modern tasks to be implemented through the content, forms and methods of custodial activities in various summer camps have been mentioned. The presented data stress the necessity to use innovative tools in arranging the environment for children and youth in camps, their positive influence on cognitive, motivational, volitional, emotional personality components, and independence.
The article emphasizes the role of children's and youth's summer rest. The presented data also stress the necessity to integrate summer camps to the system of extracurricular education and upbringing as they prove to be essential for children and youth's self-education and self-identification and will help determine educational strategies in Ukraine.
Key words: care, children, summer camps, educational activities, forms and methods of care, Poland.
Downloads
Download data is not yet available.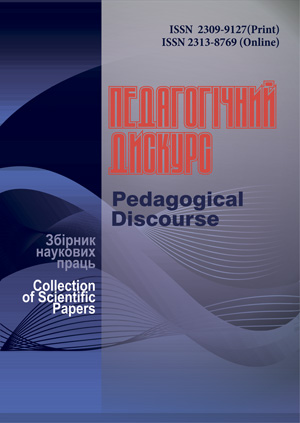 How to Cite
Karpenko, O. (2016). Childcare in Polish Summer Camps. Pedagogical Discourse, (20), 78-82. Retrieved from https://ojs.kgpa.km.ua/index.php/peddiscourse/article/view/61