The System of Value Orientations as a Part of Professional-Communicative Culture in Future Family Doctors' Preparation
Olha Nalyvaiko

Vinnytsia Mykhailo Kotsiubynskyi State Pedagogical University
Abstract
In the article the systems of value orientations are analyzed; the components of professional and communicative culture in future family doctors' preparation are singled out; psychological and pedagogical functions of a doctor in a professional activity are described and their role in efficient professional interaction «doctor-patient» is highlighted.
The system of humanistic values is characterized; and the role of these humanistic values in doctors' professional activities as culture background is revealed. The outcomes of a medical professional activity are focused on. It is stated that they depend on the level of cognitive processes, the degree of emotional sphere development. The basic characteristics of value orientation system are highlighted. The latter facilitates personal and professional development, fosters inner personal mechanisms, determines professional behaviour and provides contents and orientation of a professional activity. The value system of future doctors includes the ability to sympathize with a patient; their readiness to sacrifice; the feeling of responsibility for the result of work; thoroughness; a strong will and professional courage; a developed intuition and determination; dignity, independence, self-confidence, integrity; tolerance to the character of a patient, culture, religion; benevolence, intolerance to negligence; a high level of professional and communicative competence; professional reflection; self-criticism; belief in rescue mission of medicine; optimism.
In the article the potential integral elements of future family doctors' professional mastery are highlighted; the main methods and forms of doctors' professional culture and thinking are singled out. Doctors' professional thinking includes clinical, professional and ethical, ecological, genetic and IT thinking.
The thesis gives the characteristics of the main components of medical staff's communicative competence. These components include the proper use of verbal and non-verbal communication; skills of empathetic communication; the ability to build the most appropriate relationship with a patient in the process of solving clinical and diagnostic tasks.
Downloads
Download data is not yet available.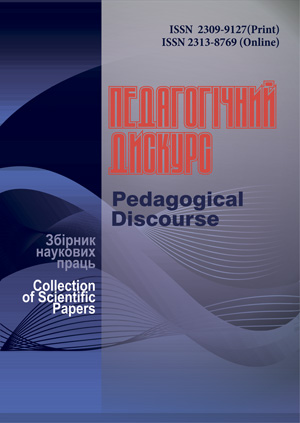 How to Cite
Nalyvaiko, O. (2016). The System of Value Orientations as a Part of Professional-Communicative Culture in Future Family Doctors' Preparation. Pedagogical Discourse, (20), 138-142. Retrieved from https://ojs.kgpa.km.ua/index.php/peddiscourse/article/view/72