The Concept of Nature in Japan Religious and Philosophical-Ethical Doctrines as a Basis for Reverent Attitude of Japanese People Toward Nature
Oksana Svystak-Yarotska

Khmelnytskyi Humanitarian-Pedagogical Academy
Abstract
This article is dedicated to the attitude of human toward nature in religious, philosophical and ethical concepts in Japan. The treatises on the Japanese attitude toward nature are studied, the role of historical ideas about the environment in the life of modern Japanese society from the point of view of nature conservation and sustainable development is considered. The article traces the development of religious, philosophical, ethical concepts in Japan during the historical development, the contents of their basic postulates are revealed. The article also emphasizes the aspirations to live in harmony with nature according to the traditions of Shinto, Buddhism, Zen Buddhism, Confucianism, sacredness of nature objects, the worship of nature and the awareness of human responsibility for their own actions. The fundamental contrast between Western and Eastern conceptions of nature and respect for nature, where the Western idea argue separation of human from nature, and the Eastern - the fundamental unity of human and nature creations, is shown. Upon synthesis, we concluded that the concept of Japanese religious and philosophical doctrines about the nature of human life has a significant impact on education in Japan and on the effectiveness of measures to preserve the environment.
Key words: Shintoism, Buddhism, Zen Buddhism, Confucianism, attitude toward nature.
Downloads
Download data is not yet available.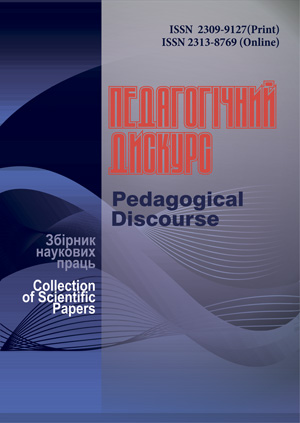 How to Cite
Svystak-Yarotska, O. (2016). The Concept of Nature in Japan Religious and Philosophical-Ethical Doctrines as a Basis for Reverent Attitude of Japanese People Toward Nature. Pedagogical Discourse, (20), 160-167. Retrieved from https://ojs.kgpa.km.ua/index.php/peddiscourse/article/view/77