Christian Foundations of Charitable Activity of Оleksandr Dukhnovych
Maryna Tymchyk

State Higher Educational Establishment «Uzhhorod National University»
Abstract
On the basis of historical and pedagogical sources, little-known works and in the light of charitable activities of Oleksandr Dukhnovych the worldview foundations of his pedagogical principles are analyzed.
The relevance of the problem, its theoretical and practical importance has been proved.
In the article are specified parameters and ethical views of O. Dukhnovych's religiosity.
The principles of his spiritual assets, human and intellectual values are defined. Humanistic views at the life and the mission of the person are outlined. It is defined that A. Dukhnovych used in his practice such humanistiс principles as: the Christian principles of love to people, righteousness and respect for human dignity. The article discusses the right of the person to worthy life and display of their natural talents.
The author of the article accentuates that in accordance with the worldview of O. Dukhnovych the aim of the human life is happiness.
On the basis of the theoretical generalization the author of the article has come to a conclusion towards the sources of O. Dukhnovych's Christian optimism. It has been proved that charitable activities of the educator and the clergyman are based on the church's doctrine of love to fellow man and compassionate attitude towards orphans and the poor.
The necessity to reconsider the influence of the Christian faith and church commandments on religious and moral norms of behavior of the educators of XIX century has been revealed.
Key words: O. Dukhnovych, charity, humanity, philanthropy, Christian morality, altruism.
Downloads
Download data is not yet available.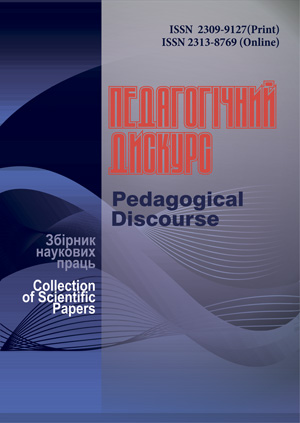 How to Cite
Tymchyk, M. (2016). Christian Foundations of Charitable Activity of Оleksandr Dukhnovych. Pedagogical Discourse, (20), 183-186. Retrieved from https://ojs.kgpa.km.ua/index.php/peddiscourse/article/view/81