Reforming of Professional Translator Training in Germany on the Basis of Bologna Process
Natalia Levyts'ka

Khmelnytsky National University
Keywords:
professional training, translator, educational program, degree (education-qualificational level) "Bachelor", Master
Abstract
The article deals with the peculiarities of reforming of professional translator training under the conditions of Bologna Process, and training programs for translators in the Universities of Germany are analyzed
Downloads
Download data is not yet available.
References
Отрощенко Л. С. Реформування вищої освіти Німеччини у контексті Болонського процесу /

Л. С. Отрощенко // Сучасні тенденції розвитку освіти в Україні та за кордоном : зб. матеріалів міжнар.
наук.-практ. конф. Наукові праці. Серія: Педагогіка, психологія і соціологія. – Донецьк, 2009. – Вип. 5 (155). – С. 62–66.

Полупанова Е. Инновации в высшем образовании западных стран : организационный уровень / Е. Полупанова // Alma Mater. – 2005. – № 3. – С. 35
.
Вікіпедія [Електронний ресурс]. – Режим доступу : 07.10.2011 : .– Загол. з екрану. – Мова українська.

Mayer F. Konzeptionelle Ausgestaltung der Ausbildung der Dolmetschern und Übersetzern [Електронний ресурс] / Mayer F. – Режим доступу : 20.10.2011 : . – Загол. з екрану. – Мова німецька.

Stoll K-H. Der Bologna-Prozess im Bereich Übersetzen und Dolmetschen [Електронний ресурс] / Stoll K-H. – Режим доступу: 21.11.2011 : http://www.fachportal-paedagogik.de/.../fis_set.ht. – Загол. з екрану. – Мова німецька.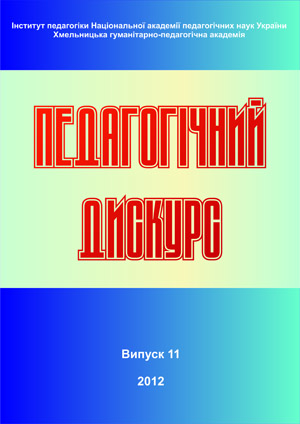 How to Cite
Levyts'ka, N. (2012). Reforming of Professional Translator Training in Germany on the Basis of Bologna Process. Pedagogical Discourse, (11), 172-175. Retrieved from https://ojs.kgpa.km.ua/index.php/peddiscourse/article/view/812
Copyright (c) 2012 Pedagogical Discourse
This work is licensed under a Creative Commons Attribution-NonCommercial-ShareAlike 4.0 International License.